Pigeon-filled Dam Square has long been a gathering place for local Amsterdam residents and visitors alike. Surrounded by wonderful buildings and other attractions, Dam Square provides several must-sees on your trip to Amsterdam.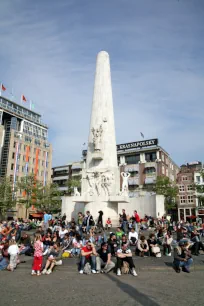 History of Dam Square
Dam Square was created in the thirteenth century when a dam was built around the Amstel River to prevent the Zuiderzee Sea from flooding the city, causing damage and endangering the citizens of Amsterdam.
Through the centuries, a number of buildings sprung up around the Square, special events were (and still are) held here, and street entertainers are a common site. In the 1960s, Dam Square was famous for the "hippie" population that hung out at the location.
Sights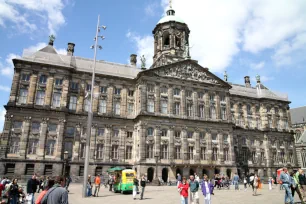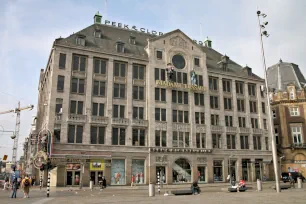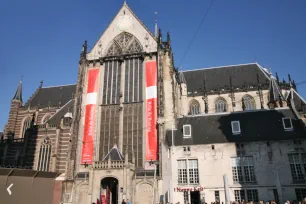 Royal Palace
In addition to several restaurants, cafés, and shops, there are many excellent attractions to visit in Dam Square. The most prominent is the Royal Palace (Koninklijk Paleis). Built as a city hall for the magistrates of Amsterdam, it was the largest secular building in Europe in the seventeenth century. The Dutch royal family no longer lives here, but many special events are still held at the palace. It is open to the public when no special events are being held.
Grand Hotel Krasnapolsky
Near the palace is the Grand Hotel Krasnapolsky, the largest five-star hotel in the Netherlands. It maintains a low-profile, but is known in certain circles as the place to stay while in Amsterdam. Established in 1866 by a Polish immigrant, visitors may enjoy taking a meal at one of the hotel's three fine restaurants.
National Monument
At the opposite of the Royal Palace stands a tall, white column adorned with sculptures, known as the National Monument. It was erected in 1956 to honor the victims of World War II. The steps leading to the column are a popular place for people to sit and relax on a sunny day.
Nieuwe Kerk
The Nieuwe Kerk (New Church), adjacent to the palace, was originally built about 1400 and restored to its original grandeur in the mid-1600s after a major fire. It was built in the Early Renaissance style. Both inaugurations and royal weddings have been held in this magnificent church. Guests will enjoy viewing the famous stained-glass windows and listening to concerts performed on the grand pipe organ.
Madame Tussauds
For something a bit more light-hearted, make a stop at the world-famous Madame Tussauds Wax Museum. Here you'll view incredible likenesses of historic figures, pop idols, movie stars, and even an animatronic wax figure.