Once the largest secular building in Europe, the Royal Palace of Amsterdam has served a number of different purposes since its construction in the mid-seventeenth century.
The Building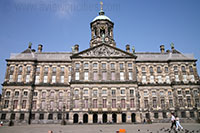 Royal Palace
The design of this magnificent structure was left to the auspices of famed seventeenth-century Dutch architect Jacob van Campen. Though it's difficult to tell now, the entire building was made of gleaming white stone. Due to weathering, it now appears to be a brownish/gray. It was built to be the city hall for the magistrates of Amsterdam, and they opened the first section in 1655.
Through the centuries, the building has been known not only for its size and beautiful exterior, but also for what's inside the Royal Palace. After it was built, famous sculptors and painters were brought to Amsterdam to create masterpieces to be exhibited there, so it's not unusual to find paintings by Rembrandt or other greats inside the Royal Palace. The theme of the decor was said to be designed to reflect the power of Amsterdam and the Dutch Republic.
From City Hall to Palace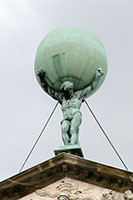 Statue of Atlas on top
of the Palace
The City Hall first reverted to a Royal Palace when Louis Napoleon, brother of the famous emperor, was appointed to rule over Holland as king in the early 1800s. He decided to take over the building and, in turn, converted it to a palace. He decorated in Empire style, and many of his furnishings can still be viewed by tourists today.
When Napoleon Bonaparte fell in the year 1813, the structure was returned to the city, but not for long. King William I liked it too and decided he'd prefer to reside there. Royalty continued to use the palace until 1936, when it again became a public building.
Currently, the building is at the King's disposal for state functions and is used often for such ceremonies.
Visiting the Royal Palace
Availability of the Royal Palace to visitors varies, depending on its use. When it is open, for a small fee, tourists can visit several rooms inside the palace on a guided tour. Knowledgeable guides entertain visitors with plenty of history and some royal anecdotes as well.