Housed in a 350-year-old warehouse, formerly an arsenal for the Admiralty of Amsterdam, the Scheepvaartmuseum (Maritime Museum) is truly one of the best maritime museums in the world, offering the most comprehensive look at the Netherlands' centuries-long tie to the sea.
The Museum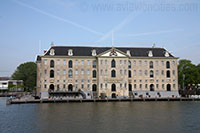 Scheepvaartmuseum
Inside the Netherlands Maritime Museum, you'll find fascinating artifacts and information on four centuries of Dutch naval history. The interior of the museum is immense; consisting of more than twenty rooms full of things like maps, paintings, navigational instruments, weaponry, and ship replicas. It is centered around a spectacular glass-vaulted courtyard, known as 'Het Open Pleyn'.
VOC Amsterdam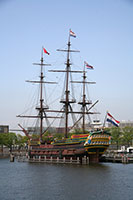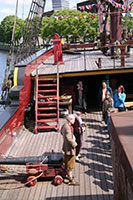 VOC Amsterdam
There's an extensive exhibit on the Dutch East India Company, touting the important role it played in early international trade. Visitors can climb aboard a replica of the merchant ship Amsterdam, which sank off the coast of Hastings, England in 1749 on its first trip to the Spice Islands, now known as Indonesia. During the warm summer months, actors recreate life aboard the ship.
Museum Collection
Some of the most valuable and interesting parts of the permanent collection are the old maps, atlases, and charts that date back as far as the fifteenth century, many penned by Holland's master cartographers.
Of particular interest to Americans may be the artifacts that pertain to the purchase of the Dutch colony in the New World, known at that time as New Amsterdam. There's even a receipt for the land which is now Albany, New York.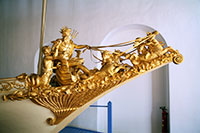 Prow of the Royal Barge
The museum also boasts plenty of maritime paintings, the largest depicting the 1607 Battle of Gibraltar, where the Dutch defeated the Spaniards. There are also many scale ship models and even real ships in the museum.
The most impressive of those is one of the museum's top attractions: the 'golden' royal barge, a gilded barge built in 1818 for King Willem I. The 17-meter-long (56 ft.) barge was last used in 1962 for the 25th Wedding Anniversary of Queen Juliana.