Amsterdam's central square known as the Rembrandtplein is always bustling with activity; providing shopping, dining, and entertainment for visitors and locals alike.
History of the Square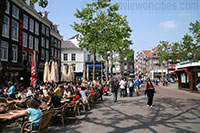 Rembrandtplein or Rembrandt Square, originally known as the Botermarkt (Butter Market), was established in 1668 and built from the remnants of the old city port. As the name suggests, the first use for this central square was as a dairy market. Occasionally, locals would also enjoy a street fair or other small entertainment event at this venue.
The area remained the same for nearly two centuries, but as the turn of the twentieth century approached, hotels, restaurants, and shops sprung up around this square, named after the famous Dutch painter. The burgeoning population began to congregate here, and it became a popular gathering spot, especially for young adults.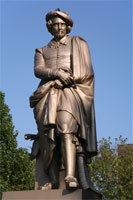 Rembrandt Statue
In homage to the artist that the Dutch embraced as their own, especially after Belgium separated itself from the Netherlands and claimed Rubens as their national painter, a statue of Rembrandt was eventually placed in the middle of the square. Fashioned from cast iron, it portrays the famous early nineteenth century artist in a rather casual pose, overlooking the many visitors who head to the square for fun or relaxation.
Visiting Rembrandtplein
Things haven't changed a whole lot at Rembrandtplein over the years. The square is still surrounded by a plethora of shops and restaurants, as well as a number of bars and nightclubs. It is still especially popular with young people. You'll also find a handful of Amsterdam's diamond factories around the square, a few of which offer tours.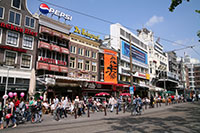 A number of excellent eateries have replaced some of the more seedy establishments that once occupied the area. The Grand Café l'Opera is known for its Art Nouveau facade and Art Deco interior. Café Schiller and the Royal Café de Kroon are popular for their diverse international menus. The Brasserie Schiller (next door to the café) is a lovely 100-year-old Art Nouveau building, decorated with etched-glass panels and stained-glass skylights, serving very traditional Dutch food and certainly worth a visit.