Amsterdam's Magere Brug (Skinny Bridge in English) is often touted as the most beautiful bridge in this city that boasts more than 1,200 of them.
Its Origin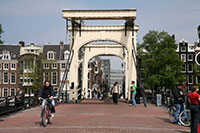 Magere Brug
There's a tale connected with this lovely and most popular bridge, which spans the Amstel River. The story maintains that two women – the skinny sisters – lived on opposite sides of the Amstel River. It is said that they had this pretty bridge built in order to make it easier to visit one another. The Dutch word for "skinny" is "mager", hence the name 'Magere Brug'.
Others, however, maintain that the nickname of the bridge merely stemmed from the fact that it was so narrow that two pedestrians could not pass each other as they walked across the structure. While the bridge is still referred to as Magere Brug, it's no longer skinny, as the original span was replaced with a wider bridge in 1871. Pedestrians and bicycles can now cross the Amstel River with ease.
Double-swipe balanced bridge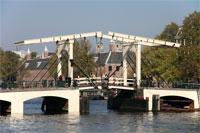 The old Dutch design of the Magere Brug is known as a double-swipe balanced bridge. It's one of just a few in Amsterdam that were constructed in this manner. It has two sides that can be opened simultaneously, and counterweights are placed in the bridge to balance the weight and make it easier to open. Most of the other bridges in Amsterdam are single-swipe, with only one side able to open to let water traffic pass through.
Because of where and how it sits over the river, the Magere Brug tends to open quite frequently – about once every twenty minutes, so be prepared if you're waiting to cross.