The largest park in Amsterdam, Vondelpark is centrally located and easy to reach from a number of popular attractions. Actually, the park itself has proven to be a favorite place to visit for both locals and guests, especially in the summer months when the days are warm and lazy.
History of the Park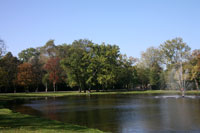 Vondelpark
Vondelpark was built in 1865 on about 8 hectares (20 acres) of land at the edge of Amsterdam. The park was designed by L.D. Zocher, who chose an English landscape style for this green area, which was to look as natural as possible despite the fact that in was located in a growing city.
The area was first known as Nieuwe Park (New Park) but was later named for a popular 17th century Dutch poet, Joost van den Vondel. When the park first opened, it was intended for both strolling and horseback riding. By 1877, the park became so popular that the public raised additional funds to expand it to 45 hectares (about 111 acres).
Also, as the city grew, Vondelpark came to be situated in the center of town, close to major museums and other popular tourist locales.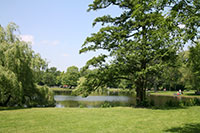 Things to Do
Many people visit Vondelpark just to take advantage of the fresh air and wide open spaces. There are a number of walking and bike paths, popular with locals, which wind through the attractively- landscaped park. Rollerbladers gather in the park one evening each week to enjoy a night of skating.
Kids won't feel left out either. Six separate play areas keep the little ones happy while mom and dad sit on comfy park benches under pretty shade trees and enjoy the pleasant Amsterdam weather.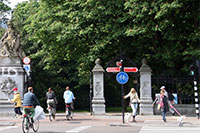 Park Entrance
Another popular place to gather is the park's wonderful Film Museum. Many describe this as more of a theater than a museum. With a collection of more than 30,000 titles that the museum is eager to share, lucky visitors have the opportunity to view some of history's finest movies, shown nightly in season on three screens.
The Vondelpark Open Air Theater keeps guests entertained with both musical and theatrical presentations from June through August. Productions usually take place five nights each week and there's no admission fee, though donations are encouraged. Guests can choose from all sorts of genre, ranging from rock concerts to symphony orchestras to classic plays and musicals.