Magna Plaza, Amsterdam's first inner-city shopping mall, was created in 1990-1992 by converting the old Post Office Building. The building has an eye-catching Neo-Gothic exterior and a magnificent Neo-Renaissance interior.
History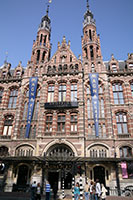 Magna Plaza
At first glance, visitors can tell that Magna Plaza, Amsterdam's wonderful shopping center, wasn't always the local mall! Originally built in 1899, Magna Plaza was once Amsterdam's Post Office building. It was designed by government architect P.C. Peters, who was known for creating ornate buildings such as this Neo-Gothic / Neo-Renaissance delight.
Mocked for its over-the-top architecture in a city where buildings were traditionally much simpler in design, some individuals began referring to its style as "post office Gothic", noting that it also resembled London's Parliament. In the early days, residents also dubbed the building "Pearborough", thanks to the large number of pear-shaped crowns that sit at the top of the 5,500 square meter (60,000 sq. ft.) edifice.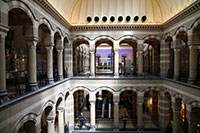 Magna Plaza Interior
Nevertheless, Magna Plaza is architecturally stunning to the eye – both inside and out – and is unlike your average shopping mall. Inside, the shops at Magna Plaza are situated around the central atrium under the original nineteenth-century glass dome and a tour of the interior also provides the opportunity to visit one of three mezzanines on the top story, from which you can view the entire plaza. The removal of the non-supporting walls provides a wonderful open space with high ceilings, rich decoration, and much more.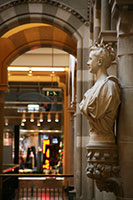 Bust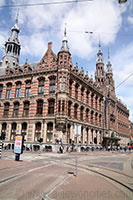 Exterior
But aside from its crowned Gothic towers and magnificent four-story Neo-Renaissance interior, the building was also considered a technological wonder of its era, built on 4,650 piles stuck in the muddy ground.
Shopping
If you've indeed come here for the shopping opportunities, you won't be disappointed, especially if upscale fashion is what you seek.
When Magna Plaza became a shopping mall in 1992, the owners decided to spread the shops over all four stories. The result was the inclusion of about forty stores and a handful of restaurants, including the three-story Café Ovidius.
The shops tend to be on the expensive side, so you'll often find more browsers here rather than true shoppers, but it's fun to pick up an item or two, just to say you went shopping at one of the world's fanciest malls!