The magnificent Central Station of Amsterdam is the main hub of transportation in the Netherlands. Commuter, regional, and international trains arrive and depart all day long, and the station is also the transportation center for the city's trams and buses.
About the Station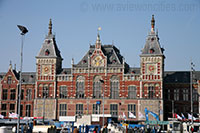 Central Station
Amsterdam Central Station was opened in 1889 and was considered a symbol of rejuvenation for the once-stumbling economy of The Netherlands. It was designed by architect P.J.H. Cuypers, who was also responsible for the design of many of Amsterdam's Neo-Gothic churches.
Construction on this huge station began in 1881. Built in a Neo-Renaissance style (though it boasts many Gothic characteristics), it is believed that the actual construction of the building was under the direction of A.L. van Gendt. Cuypers, who also designed the Rijksmuseum, said that he had a vision of a mirage appearing at a port while pondering the design for Central Station.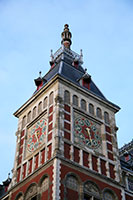 Clock Tower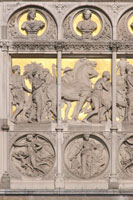 Reliefs on the facade
The station was built on the banks of the IJ River. It is held up with 8,600 pilings in order to keep the building stable and avoid accidents caused by shifting soil. The exterior of the building is made of red stone. Carvings and spires are prominent on the exterior of the building, as are two large clock towers. In actuality, however, only one of those is a clock. The other is a read-out for the wind vane that sits atop the station. The weather vane is said to symbolize the maritime trade on the waters of the Netherlands, while the clock symbolizes the railway industry. Between the two towers are reliefs that attest to the hopes for the prosperity of the nation.
Today's Central Station
In actuality, the original station has been expanded many times in order to accommodate the 1,500 trains that arrive and depart daily, as well as the buses and trams that tourists and locals can catch at the station. It was also recently restored and the building now reflects much of its original grandeur.
If you're using any of the city's public transportation, you'll no doubt find yourself in the Central Station at one time or another during your visit to Amsterdam. Bring along some extra cash for shopping as well. There are many stores at the station as well as places to grab a quick bite to eat.