Once a corn mill, the De Gooyer windmill, also known as the Funenmolen is now a charming brewery and popular gathering place.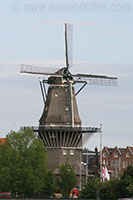 De Gooyer windmill
The Netherlands is famous for its windmills that were once omnipresent in the flat landscape. In Amsterdam, only six have survived the times, of which the De Gooyer mill is the closest near the historic center.
History of the De Gooyer Windmill
Currently towering over the Nieuwevaart Canal, Molen De Gooyer was built in 1725. The structure, just one of Amsterdam's many windmills that were built in the eighteenth century, replaced an older windmill of the same name. The mill was moved to its current position in 1814 when barracks built in 1811 obstructed the wind. It was operational until the beginning of the twentieth century, when the city of Amsterdam purchased the building and promptly restored it between 1929 and 1930.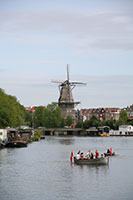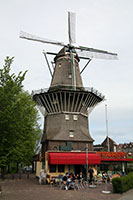 A 1972 storm caused extensive damage to the windmill, but historians saw to it that it was rebuilt, and by 1976, it was once again in operation.
The Windmill Today
Its location in the eastern portion of Amsterdam's downtown area has made the structure quite popular with both locals and tourists.
There's nothing terribly unique about the interior of the brewery. It's decorated with traditional wooden tables and chairs and beer bottles, but most find it a charming place to stop for a beer and a snack, such as cheese, salami, or nuts.
The downside is that the windmill is rather tiny and can't accommodate all of its potential customers during its short hours (usually 3 to 8 pm). So if a table is a must, be sure to arrive prior to the doors opening for the day. Sitting on the terrace is delightful during the warm weather, but those tables fill up quickly as well, so arrive early.