Anyone with some knowledge of World War II knows the story of Anne Frank and her famous diary. A visit to Amsterdam gives guests an opportunity to visit the location where young Anne and her family were holed up in virtual silence for two years.
About Anne Frank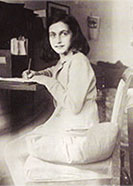 Anne Frank
Born in 1929, Anne Frank was the younger daughter of Otto Frank and Edith Frank-Hollander. This German-Jewish family, which included older sister Margot, lived a peaceful life in Germany until the days of Hitler and his ethnic cleansing mission.
With anti-Semitism continuing to grow, Otto moved to the Netherlands in 1933 and the family soon followed. By 1940, however, Hitler had invaded the Netherlands, making life difficult for the family, who were made to go to all-Jewish schools and wear yellow stars that signified their ethnicity.
In 1942, Margot is summoned to report to a work camp in Germany. Expecting this to happen and refusing to let her go, Otto Frank has already found a hiding place for the family – an empty section of the building owned by the company for which Otto works. The family packs up a few meager belongings and proceeds to the place where they will live for two years, in constant fear of being discovered. They are eventually betrayed in 1944.
Anne's famous diary was a present for her thirteenth birthday, and throughout her years in hiding she documented not only the family's struggle against the Nazis, but also outlined her personal relationships with the others in hiding.
About the Museum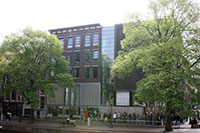 Anne Frank Museum
The former hiding place of the Frank family is one of the most popular attractions in Amsterdam. The Frank's hiding place was the secret annex of the Opekta office building, where Otto Frank was employed since arriving in Amsterdam. Preparation of the space began in early 1942 with the clearing of the attic and two floors. The building continued to appear vacant even after its eight residents moved in.
Today, visitors can tour the Secret Annex, left in its original condition (as much as possible). In addition to the historic rooms, guests to the Anne Frank House will also find additional exhibits, many profiling the importance of freedom and democracy.
A facsimile of Anne's famous diary is also on display as well as numerous photographs, official documents, letters, postcards, books and possessions from the Frank family and the other people in hiding. The museum continues to enlarge the collection whenever possible.