The Begijnhof (Beguinage) is a tranquil courtyard in the center of the city. It dates back to the fourteenth century, when it was built for the Beguines.
Beguines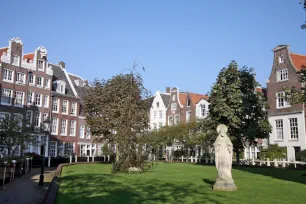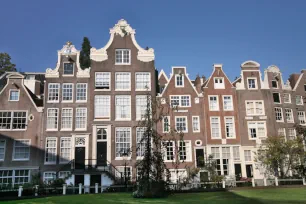 The oldest and most famous of the many courtyards in the city, the Beguinage was created in 1346 to house Beguines, pious Catholic women who lived and dressed like nuns, without taking formal vows. They lived together in small urban communes known as Beguinages.
Houten Huis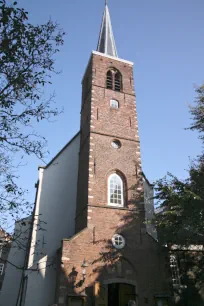 The historic row houses are arranged around a central green square. None of the original houses survived, but Amsterdam's oldest house, the Houten Huis (Wooden House), can be found here, at no. 34. The house with a black wooden facade was built around 1420 and is one of just two remaining wooden houses in the city. In 1521, after fierce fires broke out, the construction of wooden houses was outlawed.
Engelse Kerk
Most of the other houses were built in the seventeenth century. The largest building at the courtyard is the Engelse Kerk (English Church). This originally Catholic church replaced an earlier chapel and was built in the fifteenth century for the Beguines.
During the 'Alteratie' – the reformation during which Calvinism (an extremist version of Protestantism) became the official religion – the church was confiscated by the city. The Beguines promptly created a conventicle at nos. 29-30, where they and other Catholics attended worship until 1795, when freedom of religion was restored.
Tourists
Many of Amsterdam's courtyards, known locally as 'hofjes', are closed to the public to protect the privacy of the people living there against the throngs of tourists visiting Amsterdam. Parts of the Begijnhof is now only accessible to residents. Groups are also discouraged from visiting the Begijnhof.