The neoclassical US Supreme Court Building was built in the early 1930s to house the members of the Supreme Court, the highest judicial court in the United States of America.
History
When Washington, DC became the US capital in 1790, there was no building specifically designated for the use of the members of the Supreme Court. For more than 140 years, the court was housed in the US Capitol building, first in the basement and then in other parts of the complex.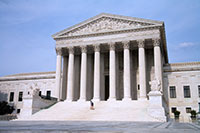 US Supreme Court
In 1929, Chief Justice William Howard Taft suggested that the Supreme Court have its own headquarters. Shortly thereafter, architect Cass Gilbert, best known for his design of the Woolworth Building in NYC, was chosen for the project. Even though the country was in the midst of the Great Depression, the cornerstone for the building was laid in 1932 and the project completed in 1935 at a cost of just under $10 million.
Architecture of the "Temple of Justice"
Gilbert modeled the US Supreme Court Building on Greece's Parthenon, a reference to Ancient Athens as the birthplace of Democracy. The site determined the size of the building, which stands four stories tall. The building is set back on its lot, and a set of fifty-three marble steps lead to the grand front entrance. Two marble blocks flank that stairway and feature sculptures by James Fraser – a male figure representing "Guardian of Law" and a female figure who is said to embody the spirit of equity, known as "Contemplation of Justice".
Guardian of Law
The public facade is fashioned from Vermont marble and the courtyards of Georgian marble. The western or front facade bears the inscription "Equal Justice Under Law" and faces the Capitol building. The eastern facade includes the motto, "Justice, Guardian of Liberty".
Inside, the interiors are lined with Alabama marble, but the courtroom where the justices convene is lined with Spanish Ivory Vein marble. It is said that the columns inside the courtroom, made of Italian marble from Siena, resulted from dialogue between architect Gilbert and ruler Mussolini. Apparently, Gilbert appealed to the dictator for help in obtaining the finest quality Italian marble.