The Volksgarten is a public park created between 1820 and 1823 at the site of a former palace bastion. It was one of the first recreational areas in the center of the city.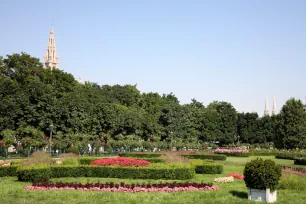 The elegant park, long a favorite gathering place for the aristocracy, is laid out in French formal style with geometric flowerbeds and a beautiful rose garden. A number of decorative fountains and interesting monuments embellish the park. The focal point however is the Theseus Temple, a replica of a Greek temple.
History
After Napoleon demolished the Burgbastei – a bastion near the imperial palace – in 1809, the open space was used to create a couple of gardens. One, the Burggarten, was exclusively for the imperial family, while the other, the Volksgarten, was made freely accessible soon after it opened in 1823. The garden was extended in 1857 when the remaining city fortifications were torn down.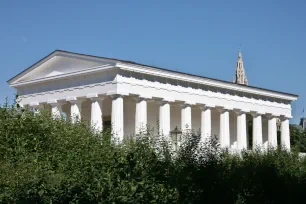 Theseus Temple
At the center of the park is the Theseus Temple, a replica of the Temple of Hephaestus (Theseion) in the Ancient Agora of Athens. The temple was originally built between 1820 and 1823 by Peter von Nobile, an Austrian architect.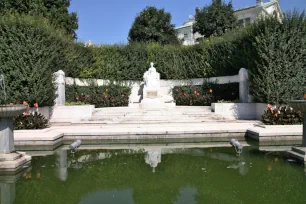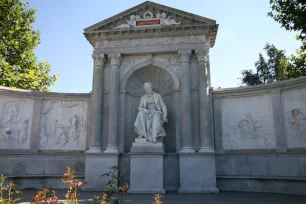 The Theseus Temple originally housed the statue 'Theseus and the Minotaur' by Antonio Canova. The statue is now missing; in 1890 it was moved to the staircase inside the Kunsthistorisches Museum shortly after the museum opened.
Monuments
Tucked away in a corner at the northern end of the park is the Kaiserin Elisabeth-Denkmal, a memorial to Empress Elisabeth of Bavaria. The Austrian empress, better known as Sisi, was murdered in 1898 by an Italian anarchist. The memorial was created by architect Friedrich Ohmann and sculptor Hans Bitterlich in 1907 and shows a seated statue of Elisabeth. A small pond and a remembrance garden serve as a tranquil setting for the memorial.
At the other end of the park is a monument honoring Franz Grillparzer, created in 1889 by Karl Kundmann. It shows a statue of the poet and playwright Grillparzer in an exedra flanked by reliefs depicting scenes from his plays.