Peterskirche is a glorious High Baroque church situated in the inner city of Vienna, near the Graben shopping area. The church is known for its opulent interior with stucco and magnificent frescoes.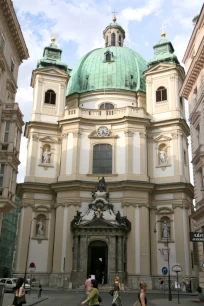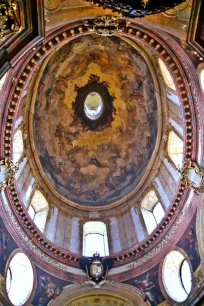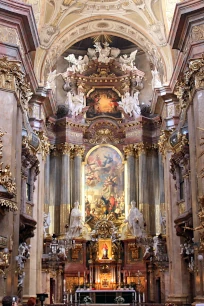 The Church
The Peterskirche occupies a small square, almost obscured by the surrounding buildings. A church was already built here in the eighth century, possibly on the foundations of an even older, fourth century Roman church.
The current oval-shaped structure was built between 1702 and 1733 after a design by Gabriele Montani. Other architects participated in the project, and the church was probably completed by Johann Lukas von Hildebrandt, an Austrian court architect who also designed the Belvedere Palace.
The narrow space of the building plot resulted in the rather peculiar design, with a monumental dome completely overshadowing the church's two towers.
Interior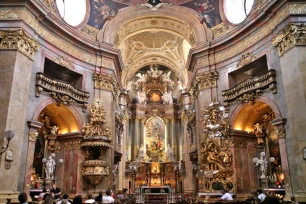 The sumptuously decorated interior is overwhelming. An abundance of marble pilasters, gilded sculptures, intricate stucco and impressive frescoes turn the interior into one lavish work of art.
The pulpit's decoration is particularly excessive, with its numerous gilded sculptures created by Matthias Steindl in 1716. The fabulous fresco on the enormous dome depicts the Assumption of the Virgin Mary and was painted in 1714 by Johann Michael Rottmayr, an acclaimed Austrian Baroque painter.
Opposite the pulpit is a dramatic sculpture group designed in 1729 by Lorenzo Mattielli, an Italian sculptor. The gilded sculptures depict martyr St. John Nepomuk being thrown off the Charles Bridge in Prague.
The high Baroque altar was created by Santino Bussi after a design by Antonio Galli, a member of the Galli-Bibiena family, a family of Italian artists from the seventeenth and eighteenth centuries. Galli was also responsible for the Trompe-l'œil above the high altar.