Hundertwasserhaus is a colorful residential complex designed by the controversial Austrian artist/architect Friedensreich Hundertwasser, who is responsible for several similarly imaginative buildings in Vienna.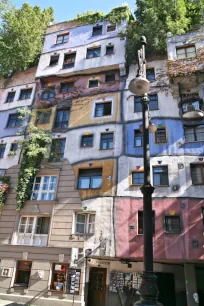 Not unlike Barcelona's Gaudí before him, Hundertwasser reacted against the conventional boring architecture of his contemporaries and wanted architecture that was closer to nature, without any unnatural straight lines but with bright colors and whimsical shapes.
Controversy
In 1983 Hundertwasser started with the conversion of a complex of public housing units into a bizarre looking colorful patchwork with irregular patterns and varied window shapes. When it was completed two years later, his fantastical creation caused quite a stir, and some architecture critics quickly dismissed his work as kitsch. However, the Hundertwasserhaus – as it became known – was a hit with the public and soon started to attract visitors to this otherwise quiet residential area.
The Building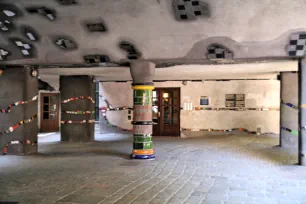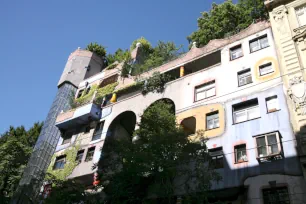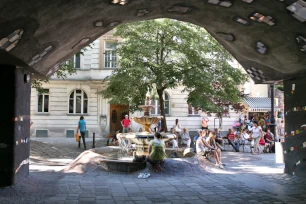 The Hundertwasserhaus is designed with undulating lines, since Hundertwasser considered the straight line "godless". He even planned to have uneven floors, but for practical reasons this was never implemented.
Hundertwasser also rejected the functionalism of modern architecture (he even demonstrated against Adolf Loos' rational architecture) hence Hundertwasserhaus is crowned with a gilded onion dome and decorated with stucco figures and ceramic pillars. Hundertwasser's desire to bring architecture closer to nature is not only apparent in the use of curves, but also in the landscaping of the terraces with trees and ivy.
The facade of the Hundertwasserhaus is painted in bright colorful patches; in some areas the painting seems shredded, revealing the original facade.
Tourist Attraction
Soon after the conversion of the private apartment complex into the colorful patchwork we see today, the building started to attract visitors. To relieve the inhabitants of the tourist overload, a shopping arcade was constructed opposite Hundertwasserhaus. The arcade, also designed by Hundertwasser, is just as unconventional as Hundertwasserhaus itself.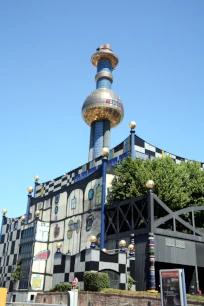 More Hundertwasser
There are a couple of other buildings in Vienna that received the Hundertwasser treatment.
Not far from Hundertwasserhaus, four blocks north at Untere Weisbergerstraße 13, is the KunstHausWien. This building was originally a Thonet factory, where the famous Thonet bentwood chairs were produced. Today it houses a permanent exposition of the artwork of Friedensreich Hundertwasser. Its facade has a design similar to that of the Hundertwasserhaus, but this time black and white colors dominate.
Another noteworthy project is the Fernwärme Wien in Spittelau. Here, Hundertwasser converted a garbage incineration plant into a psychedelic looking castle with bright colors and a tall tower crowned with a metallic sphere.