Liechtenstein Garden Palace was built in the early eighteenth century as a summer palace for the Liechtenstein family. Today it is home to the Liechtenstein Museum, which displays a private collection of paintings and sculptures in a sumptuous Baroque setting.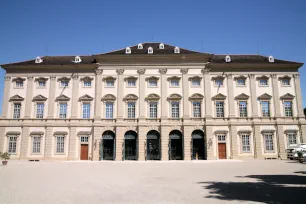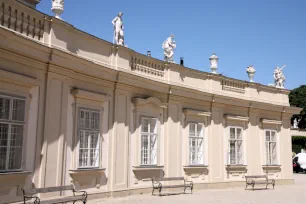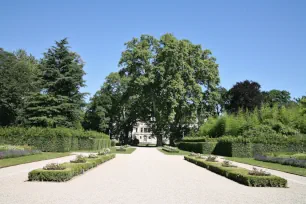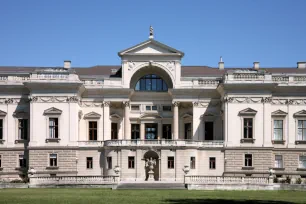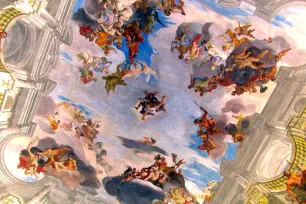 The Princely House of Liechtenstein was one of the wealthiest aristocratic families in Vienna. In the seventeenth century they built two palaces in the city, one in the Bankgasse in the center of the city (known as the Stadtpalais Liechtenstein) and a Gartenpalais in Alsergrund, at the time a rural area just north of the city. The Gartenpalais (garden palace) was used by the family during summer, while the family lived in the Stadtpalais (city palace) during the winter.
Liechtenstein Palace
The summer palace was commissioned at the end of the seventeenth century by Prince Johann Adam Andreas I of Liechtenstein. It was completed in 1709 by the Italian architect Domenico Martinelli, who was also responsible for the Stadtpalais Liechtenstein in the Bankgasse.
The exterior of the summer palace is sober, inspired by the classical designs of Roman villas. The interior is more elaborate, with a Baroque design and plenty of lively frescoes and paintings.
The garden behind the palace was originally formally laid out in a Baroque style. In the late eighteenth century, the garden was restyled as an English landscape garden. Today's garden was created in 2003 by Cordula Loidl-Reisch and is a mixture of those two historical styles: a formal section near the palace followed by a leafy landscaped garden.
Behind the garden was a Belvedere, designed by Johann Bernhard Fischer von Erlach. The structure was demolished in 1872 to make way for the Neue Sommerpalais (new summer palace). This new palace was built by the Austrian architect Heinrich von Ferstel.
Liechtenstein Museum
Already in 1805 the Liechtenstein family opened its private art collection to the public, but they transported the works of art to Liechtenstein during the Second World War. In 1979 the Liechtenstein Palace became home to a museum of modern art, until 2001 when its collection moved to the newly opened MuseumsQuartier.
After an extensive renovation, the Liechtenstein Museum reopened in 2004 with the original private collection of the Liechtenstein family. The galleries display Gothic, Renaissance and Baroque works of art with a specific focus on paintings by the Flemish artist Pieter Paul Rubens – represented with no less than thirty paintings – and his compatriot Anthony Van Dyck.
The museum building is worth a visit on its own, as it is decorated with beautifully restored stucco work and magnificent frescoes by the Austrian Baroque painter Johann Michael Rottmayr. Of note are the Sala Terrana, with its grand staircases and beautiful frescoes, and the large Herculessaal, a magnificent Baroque hall lined with red marble pilasters and an impressive ceiling fresco – The Admittance of Hercules to Olympus – by the Italian Baroque painter Andrea Pozzi.