Hoher Markt is the oldest square in Vienna. At its center stands a sculpted fountain, but the biggest tourist draw is the Ankeruhr, a large gilded clock designed in 1914.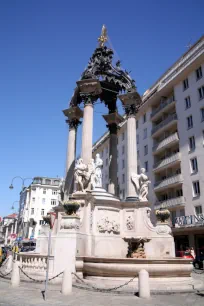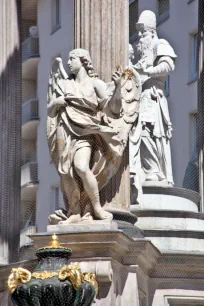 During the Middle Ages, this was one of the city's most important marketplaces. It was also the site of a pillory and gallows. There are no traces left of the past, as it is now a parking lot lined with post-war buildings.
Roman Ruins
The area was the site of a Roman garrison city, Vindobona. Roman ruins were revealed during excavations after the Second World War. In an underground museum you can see the remains of what is thought to be houses of officers, as well as some pottery and reliefs.
Wedding Fountain
The large Vermählungsbrunnen (Wedding Fountain) immediately attracts the attention. The fountain was commissioned by Emperor Leopold I who wanted to celebrate the return of his son Joseph from the siege of Landau. Hence, the fountain is also known as the Josefsbrunnen.
The monumental fountain was designed by the court architect, Johann Bernhard Fischer von Erlach and constructed from 1729 to 1732 by his son, Joseph Emanuel. The Baroque fountain depicts the supposed marriage between Joseph and Mary by the High Priest under a bronze baldachin, supported by four large Corinthian columns.
Ankeruhr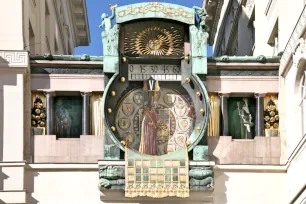 The star attraction at the Hoher Markt is the Ankeruhr, a large gilded clock in Jugendstil style (the local version of Art Nouveau). The clock spans a small alley, the Bauernmarkt. It was commissioned by the insurance company Der Anker – hence its name – and was constructed in 1917 after a design by Franz Matsch.
Each hour, a gilded figure representing a historical figure appears, accompanied by organ music. At the stroke of noon, each of the twelve figures appear one by one, often attracting a crowd. A small plaque near the clock identifies each of the twelve figures.