Am Hof is the largest square in the inner city of Vienna. The square is dominated by the white Baroque facade of the Kirche am Hof, an originally Gothic church from the fourteenth century.
History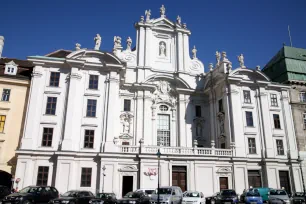 The history of the square goes back to the Roman era, when a garrison was built here. In the twelfth century, the Babenberg duke Henry II Jasomirgott built a castle on the Roman foundations. The castle was the residence of the dukes of Austria from 1156 until 1220. The square in front of the castle was first used for jousting tournaments and later became a market square.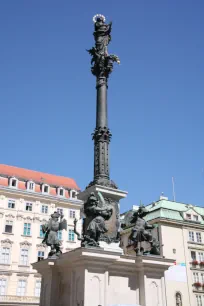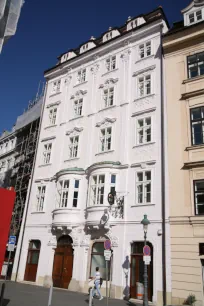 Sights
Kirche am Hof
The Kirche am Hof is a church that was founded in 1386 by the Carmelite order. The facade of the Gothic structure was rebuilt in 1662 by the Italian architect Carlo Carlone. In 1806, after Napoleon had occupied Vienna, the end of the Holy Roman Empire was declared from the balcony of this church.
Mariensäule
In front of the church stands the Mariensäule (Marian Column). The column was commissioned by the Holy Roman Emperor Ferdinand III to thank Mary for repelling the Swedish forces during the Thirty Years' War. The column was built between 1664 and 1667 after a design by Carlo Carlone. The black column, topped with a statue of the Virgin Mary, is surrounded by four cherubs clad in armour. The cherubs fight against a lion, a serpent, a dragon and a basilisk (a legendary creature) representing war, heresy, hunger and the Plague.
Urbanihaus
The most elegant facade on the square belongs to the so-called Urbanihaus, at no. 12 on the east side of the square. The High-Baroque facade dates from the 18th century and was created by an unknown architect. The history of the house goes back much further and can be traced back all the way to the mid-14th century.
Fire Brigade Museum and Bürgerlisches Zeughaus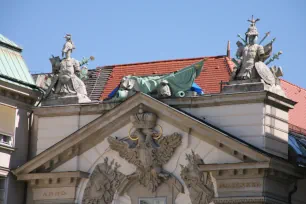 Opposite the Kirche am Hof is the Feuerwehr Zentrale (central fire station). In 1685 the first professional fire brigade in Continental Europe was established here. This building is now home to the Feuerwehrmuseum (Fire Brigade Museum), which displays anything related to the history of firefighting in Vienna such as fire engines and historical fire extinguishers.
The fire equipment used to be stored in the adjoining Bürgerliches Zeughaus, originally built in 1530 as an arsenal. The Baroque facade was added in 1732. It is richly decorated and shows the Habsburg shield and allegorical figures created by the Italian sculptor Lorenzo Mattielli.