Venice's Teatro La Fenice (Theater of the Phoenix) is one of the best-known opera houses in Europe and has been the site of numerous premieres during its long history.
The First Theater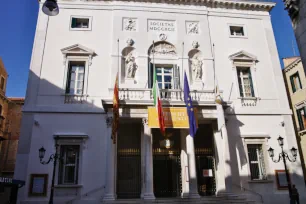 Construction on the first Teatro La Fenice began in June 1790, about six years after an earlier theater building – the San Benedetto Theater – burned to the ground.
When construction was completed two years later, it was given the Phoenix name in honor of the mythical bird that rose from the ashes. The first opera performed at the brand-new theater was Giovanni Paisiello's I Giochi di Agrigento.
At the time, the Fenice theater – like many other theaters and opera houses at the time – was immensely popular and attracted a large audience from all levels of society.
Throughout the first few decades of the nineteenth century, Venice was considered one of the premiere locations for the introduction of new operas. Several inaugural works by Rossini, Bellini, and Donizetti were performed at Teatro La Fenice.
The Theater Rebuilt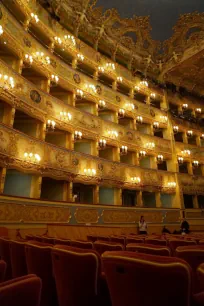 Unfortunately, the theater burned down yet again in 1836, but was rebuilt fairly quickly under the watchful eyes of architects and brothers Tommaso and Giambattista Meduna. It re-opened approximately a year after the fire destroyed much of the interior, and went on to premiere such famous operas as Rigoletto and La Traviata.
Though the theater closed during the turbulence of World War I, when it reopened, it hosted works by some of the twentieth century's best composers, including Benjamin Britten and Igor Stravinsky.
The Theater Rebuilt Again
But tragedy struck again in 1996 when the theater suffered another fire. This one, however, was arson and two electricians were eventually charged with setting the blaze and imprisoned. In 2001, the rebuilding began and was completed in just 650 days – less than two years after it started.
The new Teatro La Fenice is built in the nineteenth century style similar to the first La Fenice designed by the Meduna brothers. Architect Aldo Rossi based his design on old still photographs, including those of several early operas performed there. It is said that the redesign was to be based on the motto "How it was, where it was". Even some of the papier-mâché decorative scenes inside the theater are identical to the originals.
The December 2003 inaugural concert included works by Beethoven, Stravinsky, and Wagner. In the meantime, the new theater has received mixed reviews. Some believe it is a poor imitation of the original Teatro la Fenice – "brash and bright" said one critic – while others have proclaimed it to still be one of the best opera houses in Europe.