Situated in Cannaregio, the Madonna dell'Orto church is one of the loveliest in Venice.
History of the Church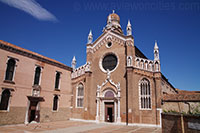 Madonna dell'Orto
Erected by an Italian religious order known as the Humiliati, the Madonna dell'Orto church was constructed in the middle of the fourteenth century. Designed by architect Tiberio da Parma, the building was first named for St. Christopher, the patron saint of travelers, but was changed in the fifteenth century when it was determined that a miraculous statue of Mary the Mother of Jesus was found in a nearby orchard (orto).
Due to poor construction, it had to be restored in 1399, shortly after it was built. When the Humiliati were banned in the mid-fifteenth century, ownership of the church reverted to The Canons of St. George, and two centuries later was turned over to the Cistercians (White Monks), a religious order that was all but wiped out during the Protestant Reformation.
The church was restored again in the sixteenth century and yet again in 1841 by the Austrian government, as Venice was part of an Austrian city-state at that time. It was turned over to the new Unified Kingdom of Italy in the 1860s. Damaged by the floods of 1966, it was soon restored once again, this time with funds mostly provided by a British foundation now known as 'Venice in Peril'.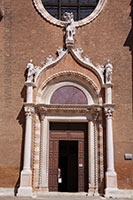 Church portal
Bell tower
Architecture of Madonna dell'Orto
The exterior of the beautiful Madonna dell'Orto Church appears simple at first glance, but is really quite ornate. The current facade is done in brick and has sloping sides. It is divided into three sections, with a rose window in the center section and mullioned windows on the side sections.
On the upper portions of the sides are a dozen statues – six on each side – of the twelve Apostles of Jesus. The area above the door in the center section is decorated with statues of St. Christopher, the Madonna and the Archangel Gabriel by Nicolò di Giovanni Fiorentino and Antonio Rizzo. Five other Gothic niches hold eighteenth-century statues representing Prudence, Charity, Faith, Hope and Temperance. These were taken from the church of Santo Stefano, demolished during that time period.
Step inside, and you'll find one nave with two aisles and pointed arches supported by Greek-style columns. The best reason to go inside, however, is to admire the wonderful Tintoretto paintings that grace the interior, including St. Agnes, Presentation in the Temple, Adoration of the Golden Calf, Last Judgement and the Four Cardinal Virtues, all painted during the years 1562-1564.
This was said to have been Tintoretto's favorite church, and he was one of several people who took part in the refurbishing of the church during the 1500s. He, his wife, and his two children are all buried inside Madonna dell'Orto.