This small boatyard is one of the few remaining sites in Venice where gondolas are still built and repaired.
About the Boatyard
The tiny boatyard known as the Squero di San Trovaso was established in the seventeenth century. It sits beside the Church of San Trovaso and close to the Accademia Bridge. The small wooden structures visitors view at the yard are Tyrolean in style since workers came originally from an area around Cadore, in the Dolomites, an Italian section of the Alps.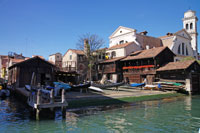 Squero di San Trovaso
The boatyard has been home to the workshops of many generations of gondola builders, skilled in the specifics of crafting Venice's famed boats, which carry scores of visitors through the canals of this fine city.
Statistics show that there are about 350 gondolas on the canal each day (there were once 10,000!) and many of them are repaired at the Squero di San Trovaso, which has become more of a repair facility than a building yard. On occasion, however, a new gondola is built here, fashioned from eight different kinds of wood – mahogany, cherry, fir, walnut, oak, elm, larch and lime – as tradition dictates. The boatyard is not open to the public so you can only catch a glimpse of what's going on by watching from across the rio San Trovaso.
About the Gondola
Gondolas are built according to an exact science that has been around for hundreds of years. All the gondolas in Venice are built or repaired at just three remaining boatyards, of which Squero di San Trovaso is one. It also happens to be the oldest facility of its kind in the city.
Docked Gondolas
Since the sixteenth century, all gondolas must be painted black in accordance with a sumptuary law passed during that era, imposed because the gaudiness of the decorations on the gondolas was getting out of hand. Today, only an iron symbol of the city is affixed to the bow and a small wood carving secures the oar, making the boats quite simple and plain.
Gondolas contain no modern equipment to propel them through the water. A single gondolier stands in the back left-hand side of the boat and propels it with a single oar.