Toronto's Royal York Hotel, now the Fairmont Royal York, is one of the most historic buildings in the city. When it was built, it was the tallest in the British Empire.
The History of the Hotel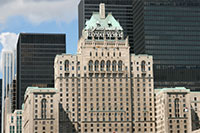 Royal York Hotel
The land on which the Royal York Hotel stands was once the site of one of Toronto's earliest hotels, the Ontario Terrace, built in 1843. The hotel went through a series of name changes before settling on Queen's Hotel in 1862. The Queen's Hotel was, until the time of its demolition, the place to stay while visiting Toronto. Its claim to fame was that owner Dick McGaw had worked his way up from a position as a bellhop to be the owner and manager of one of the most important and prestigious hotels in Canada.
View from across
the street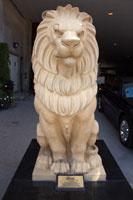 Lion statue
at the entrance
Front facade
During the heyday of the Canadian railroad, McGaw decided to sell to Canadian Pacific, who proceeded to demolish the grand hotel. What they built was even grander. The new Royal York Hotel, built across the street from Union Station and designed to serve rail passengers traveling to Toronto, opened in June 1929 and quickly replaced the Queen as the most celebrated hotel in the country.
About the Royal York
The powers-that-be at Canadian Pacific Railway chose esteemed architects George Allen Ross and Robert Henry Macdonald to design their new hotel. Ross was a Canadian, Macdonald an Australian. The pair had already designed Union Station in Toronto, as well as a handful of other Chateau-style hotels stretched across Canada. The Château style was one for which the duo would become well known.
The 28-story hotel was the tallest building in Canada at the time of its completion, as well as the tallest in the British Empire. It was state-of-the-art and featured such modern amenities as elevators – ten in all – and boasted radios in each guest room. Its 1,048 rooms all had private baths, which was unusual at the time. Its crowning glory, however, was an immense concert hall featuring a huge pipe organ designed by French organ builder Casavant Freres. It boasted 5 manuals and 107 stops, and was the largest in Canada at the time.
An east wing was added in 1959, giving the Royal York 1,600 rooms and making it the largest hotel in Canada for quite some time. When Canadian Pacific Hotels merged with Fairmont Hotels and Resorts in 1999, the hotel changed its name to the Fairmont Royal York. However, locals fervently protested the removal of the hotel's famous Royal York sign, so it still remains intact today.