Named for a provincial Senator and one-time mayor of Toronto, George William Allan, Allan Gardens is a combination park and indoor botanical garden.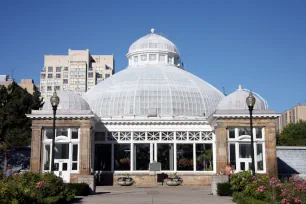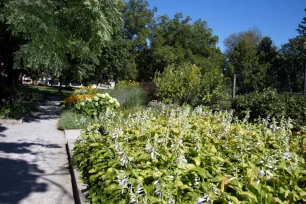 The park is one of the oldest in the city, established in the 1850s. It encompasses four hectares (10 acres) and was the first designated civic park in Toronto. Originally known as Horticultural Park, the facility was renamed in 1901 for the former mayor, who donated the land.
Palm House
In 1910, the centerpiece of the gardens was built. Known as the Palm House, this beautiful Victorian plant conservatory replaced a much simpler pavilion that burned down in 1902. Inside the ornate glass-and-metal conservatory are six greenhouses covering 15 ares (0.4 acres), including the University of Toronto's restored and renovated greenhouses, which were moved to Allan Gardens in 2004.
The flowering plants inside include tropical, sub-tropical, and arid plant collections such as orchids, various hibiscus, bromeliads and cacti, and the conservatory is said to house Toronto's finest display of caladiums and amaryllis as well. Other seasonal plants can also be found inside, depending on the time of year.
The Park
Outside of the conservatory, the trees in the park represent the northern tip of the Carolinian forest and include such varieties as sugar maple, American beech, black cherry, red oak, and sassafras. Most of the trees here are well over a century old.
For four-legged friends, the garden opened an off-leash area in 2008. The area has been nicely landscaped and is surrounded by an ornamental metal fence. A sculpture of a dog rounds out the decoration for this 3,000 square meter area that is now very popular with city dog owners.
Admission to Allan Gardens is free of charge. The park is very popular with wedding couples who arrive on warm weekends to take advantage of the colorful flowers and the stunning architecture of the Palm House.