The Riddarholmen Church is considered the oldest surviving building in Stockholm. It is best known as the last resting place of Swedish Monarchs and contains numerous impressive sarcophagi.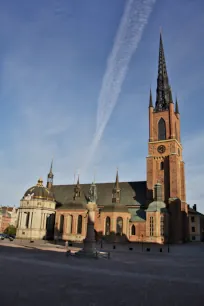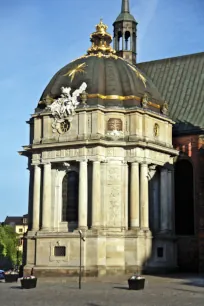 History
The name of the church is derived from the small island it is located on, Riddarholmen, which translates into "Knight's Islet". The island, which is situated right near Stockholm's Old Town, was originally a grazing ground until Franciscan monks settled here in the 13th century. At the time, the island was known as Gråmunkeholmen (Grey monks' islet). Later, after it had become a place for nobility, it was renamed Riddarholmen.
The church
The Franciscan monks built a monastery on the islet, including a rather modest church, which was constructed around 1290. As a result of the Reformation, the monks were expelled in 1527 and the church became a parish church. A Renaissance-style tower with a copper dome was added that same century. This tower was destroyed by fire in 1835 and replaced in 1840 by the current 90-meter-tall tower with its signature cast-iron spire in Neo-Gothic style.
Tombs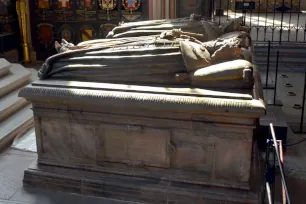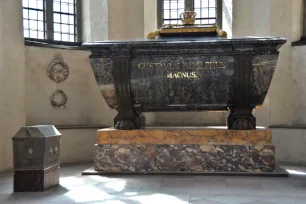 The church is not in active use anymore but functions both as a museum and a royal burial site. The oldest tombs are those of medieval rulers Magnus Ladulås (1240-1290) and Charles VIII Knutsson (1408-1470), which were added in the 16th century.
In 1634 King Gustaf II Adolf was buried here. Since then, all Swedish monarchs until Gustav V in 1950 were buried here, with the exception of Queen Christina, who in 1689 was buried in the St. Peter's Basilica in Rome instead.
The church was regularly expanded with chapels that run all around the nave. In the 17th century, Swedish nobility also built mortuary chapels in the church. The last chapel added was the Bernadotte mortuary chapel, which was built in 1858-1860 for the House of Bernadotte, the current Swedish royal family.
The architectural style of the tombs reflected the preference of its time, ranging from modest to ornate. One of the most impressive ones is the porphyry sarcophagus of King Charles XIV John, who reigned over Sweden from 1818 until his death in 1844. Also note the small tombs near the tomb of Gustav II Adolf and his wife Maria Eleonora of Brandenburg, which contain the remains of their stillborn children.