Sergels Torg, a large square in the center of Stockholm, was created during the modernization of the city center in the mid-twentieth century. Its soulless streets and buildings stand in stark contrast with the charm of the old town.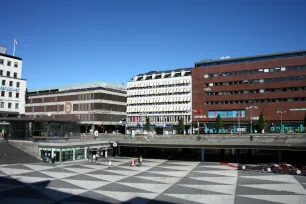 During the twentieth century, the population of Stockholm exploded, and the city center was no longer able to cope with the growth. A radical modernization plan was launched and the old Norrmalm district was transformed into the new modern heart of Stockholm – known as the City, with wide roads and modern high-rise buildings.
The Square
Originally known as Sveaplan, Sergels Torg was conceived as a new large square that would form the center of this reconstructed city. It was designed in 1957 and created around the concept of separating pedestrian and car traffic. The pedestrianized lower level gives access to underground shops and the subway.
When it was completed in 1967, the square was named Sergels Torg after the eighteenth-century Swedish sculptor John Tobias Sergel who lived nearby, but it is locally known as Plattan, for the gray and white patterned pavement.
Sights
Kristallvertikalaccent
The highlight of Sergels Torg is Kristallvertikalaccent, a 37.5 meter (123 ft) tall glass obelisk designed by Edvin Öhrström. It was installed at the center of the square in 1974, in the middle of a fountain. The sculpture is especially beautiful at night, when it is illuminated.
Kulturhuset
For many Sergels Torg is the starting point for a shopping trip, as this is Stockholm's shopping mecca, with plenty of shops, boutiques and department stores.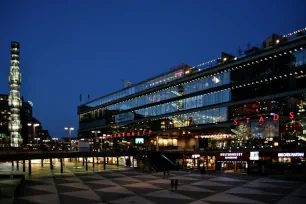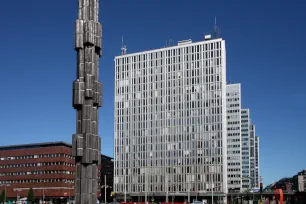 But it is also a cultural center of the city, thanks to the Kulturhuset (House of Culture) on the south side of the square. Kulturhuset was built in the 1970s after a design by architect Peter Celsing, who created an office-like building with a long glass facade, a fitting backdrop for this modern square.
The Kulturhuset regularly hosts expositions as well as musical, dance and theater performances. Since 1990 it has also been the home of the Stadsteatern, a large theater hall. During the renovation of the Parliament Building at Helgeandsholmen in the 1970s, the parliament held its sessions here.
Hötorgskraporna
To the north, Sergels Torg is bordered by the Hötorgskraporna, also known as the Hötorget Buildings. The five modern high-rise buildings, erected in the 1950s, were at the time considered iconic landmarks and long symbolized modern Stockholm. They were even considered tourist attractions.