One of San Francisco's premiere attractions, Pier 39 boasts shops, restaurants, and enough activities to keep you busy for hours. Pier 39 is also famous for its colony of sea lions, some of which stay here all year.
About the Pier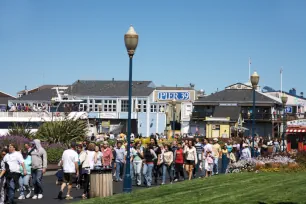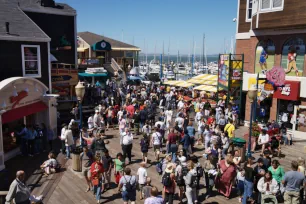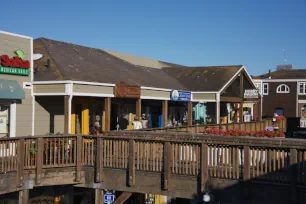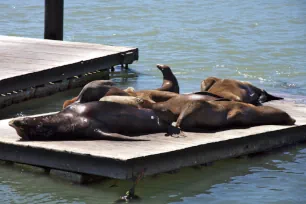 Pier 39 is a 45 acre (18 ha) complex located at the waterfront, just a few blocks from famous Fisherman's Wharf. The views from the pier are wonderful, and the area has been dubbed by the San Francisco Chronicle as the "Best Place to Watch People in San Francisco".
Pier 39 was originally built in 1905 as a cargo pier. Thanks to the vision of a few concerned citizens, the dilapidated pier was given new life in 1978, when it was renovated as a picturesque fishing village, and since that time has blended in with Fisherman's Wharf so that most tourists rarely recognize that they've left one and entered the other.
Most of the shops, eateries, and attractions at Pier 39 are open from 10 am until mid-evening on weekdays, with later hours on Friday and Saturday. It's one of the busiest areas of the city, so it's best reached via public transportation.
Shopping & Dining
Pier 39 is home to more than one hundred specialty shops. Not unlike the stores at Fisherman's Wharf, many of the shops here peddle San Francisco souvenirs, ranging from mugs and magnets to pricey sweatshirts. There are also some other stores, such as an NFL Shop and a store that sells anything for left-handed people.
There are many full service restaurants located at Pier 39, including a Hard Rock Cafe. Many of these restaurants specialize in seafood. There are also plenty of food stands and fast food eateries, including ice cream shops and a chocolate shop.
Attractions
When the kids tire of shopping, there are myriad other things to keep them busy. They can hop aboard the historic San Francisco Carousel, handcrafted in Italy, jump on the bungee trampoline, or explore the mirror maze.Pier 39 is also home to the Aquarium of the Bay. For an affordable admission charge, guests can get a great view of San Francisco's fascinating marine life, including some 20,000 aquatic animals.
Sea Lions
For some free fun, take a moment to watch Pier 39's famous sea lions frolic in the surf. The first sea lions arrived here in 1990 shortly after the Loma Prieta earthquake in 1989. Their numbers quickly grew into the hundreds. The large colony stays here during wintertime and migrates south for the breeding season, although a small number stays here year-round.