The only intact Mission Chapel in the chain of twenty-one established under the direction of Father Junipero Serra, Mission Dolores is an important San Francisco landmark.
The Church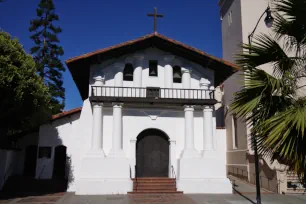 Founded on June 29, 1776, the Mission San Francisco de Asis – more popularly known as Mission Dolores – was founded during the Spanish colonization of San Francisco. The mission's church is the oldest original church building in California and the oldest intact building in the city of San Francisco.
The original mission at the site was a humble log and thatch structure. Construction on the current Mission Dolores church building didn't begin until a dozen years later. More than 36,000 adobe bricks were used to build this structure, which was finally dedicated in 1791. Today, the facade of the old church is still the original, but most of the other parts of the building have been replaced or renovated.
The Mission
Father Palou, the friar in charge of the San Francisco mission, enticed local Native Americans to "come close and watch" them build the mission and many tribe members offered to help, speeding the building of the church and, in the process, converting many of the Indians to Christianity.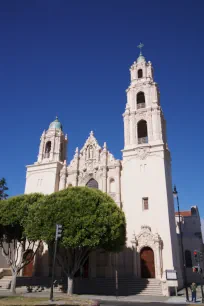 Historians say that by 1810, about 1,100 members of the Indian population came to Mission Dolores, which was more than just a church. It also owned sheep, cows, and other farm animals and ran farming and ranch operations throughout the Bay Area. Mission Dolores also owned manufacturing operations, hotels, and other retail establishments in San Francisco. Eventually the neighborhood that grew around the mission at this time became known as, appropriately, the Mission District.
During the Gold Rush, most mission-owned properties were sold and at the same time, a two-story wing was added to the main church building, used as a seminary and priests' living quarters.
The Basilica
In 1876, another church was built next to the old Mission Dolores. The Gothic Revival brick structure was destroyed thirty years later during the 1906 San Francisco Earthquake. A new church, now known as the Mission Dolores Basilica, was built from 1913-1918 and the older adobe church, which retains the name "Mission Dolores", was restored during the same time period.