Part of the San Francisco Maritime National Historic Park, Hyde Street Pier is the perfect tourist attraction for lovers of boats and sea-faring history. Several of the historic ships moored here are open to the public
About the Pier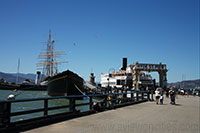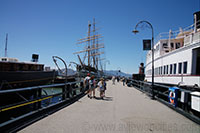 Hyde Street Pier
Hyde Street Pier, located at the National Park Service-operated Maritime National Historic Park, is situated in the Fisherman's Wharf area of San Francisco. The pier and the historic vessels berthed there are all an important part of Pacific Coast maritime history.
The pier attracts hundreds of thousands of visitors each year and a visit to this attraction provides not only a chance to climb aboard historic ships but also wonderful views of the San Francisco Bay, the Golden Gate Bridge, and other nearby attractions. Be sure to bring a camera!
Historic Ships
The centerpiece of Hyde Street Pier is the historic ships that are located there.
However, the best first stop to make when visiting Hyde Street is the Visitor Center. Here you can pick up maps, and purchase souvenirs, books, and other items pertaining to San Francisco's long and proud maritime history. At the Visitor Center, guests can also arrange for guided tours.
Once you leave the Visitor Center, you can begin to explore the vessels, which include: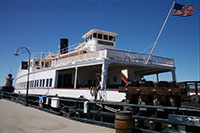 Eureka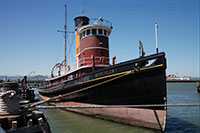 Hercules
Eppleton Hall
Balclutha (1886) – This is a 301-foot-long (92 m.), three-masted, steel-hulled, square-rigged ship built to carry a variety of cargo all over the world. It was launched near Glasgow, Scotland, and carried a crew of twenty-five men. It sailed around Cape Horn (South America) 17 times!
C.A. Thayer (1895) – This wooden-hulled, three-masted schooner was designed to haul lumber, probably from Washington or Oregon to the Bay Area. It was built at Northern California's Fairhaven Shipyard and carried a small crew of about 7, including the captain.
Eureka (1890) – Eureka is a wooden-hulled, sidewheel paddle steamboat. It is a double-end design, which made embarking and disembarking easier and quicker. Its original engine remains intact.
Alma (1891) – The Alma is a wooden-hulled scow schooner built to carry bulk cargo through the shallow waters of the Sacramento/San Joaquin delta. This 80-foot-long (24 m.) schooner was one of about 250 identical scows that sailed the San Francisco Bay in the late nineteenth century.
Hercules (1907) – This 151-foot-long (46 m.) steam tug was built for ocean towing and once towed her sister ship from Camden, New Jersey all the way around South America to San Francisco. The Hercules also has connections to Pearl Harbor and the building of the Panama Canal.
Eppleton Hall (1914) – Built in England, this steel tug was powered by two engines, which operated the ship's two paddle wheels independently. Her job was to tow coal barges on the River Wear. In 1969-70, at sixty-five years old, she made an epic six-month journey steaming from England through the Panama Canal to San Francisco.