The picturesque Victorian row houses at Alamo Square are among the most photographed buildings in San Francisco. The buildings give a good idea of what San Francisco looked like at the end of the nineteenth century.

History
In 1856, San Francisco mayor James Van Ness set aside nearly 13 acres (5 hectares) atop an area known as Alamo Hill, mandating that it be used as public open space. Because of its location, the park became known as Alamo Square.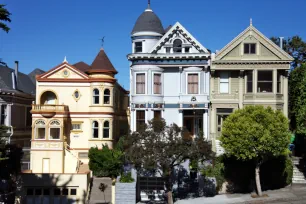 The area for Alamo Square was largely chosen because of its incredible location high above the city. Locals say it's often the windiest part of the city. Others tout the incredible view – which is undeniable. Some say viewing the sunrise or sunset from the Alamo Square Park is second to none.
The Painted Ladies
However, most people come to see the Painted Ladies, also sometimes known as the Six Sisters. For Americans over forty, these magnificent Victorian homes are easily recognizable from the opening moments of the 1990s sitcom, Full House. For other visitors, however, they are simply recognized as exquisite homes painted in colorful hues, incredibly well-preserved and a joy to view. You can find the homes facing the park on Steiner Street. Don't forget your camera!
The brightly colored houses give a good idea of the architectural style that was predominant in San Francisco during the second half of the nineteenth century. Unfortunately, most of these beautiful wooden houses were lost during the 1906 earthquake and subsequent fire, but there are nonetheless still fifteen thousand Victorian houses remaining in San Francisco.
The Views
Of course, from the right vantage point in Alamo Square Park, you can also view some of the city's other famous sites, including the Golden Gate Bridge, the Oakland Bay Bridge, the Transamerica Pyramid, City Hall, and several other notable buildings and structures. The park also contains tennis courts and a playground and is quite popular with dog owners. You might even stumble upon some sort of doggie special event while you're visiting, such as a dog show.