Originally built as the headquarters of the Bank of America, San Francisco's 555 California Street was once the tallest building west of the Mississippi. Today, the skyscraper remains a landmark on the city's skyline.
Bank of America

555 California Street
In the 1960s, the Bank of America decided to construct a new skyscraper for its world headquarters. They hired renowned architects Skidmore, Owings & Merrill and Wurster, Bernardi & Emmons to design a massive building that would show off the financial company's great wealth.
Design
The design for the building called for literally thousands of bay windows, which were not only attractive, but also served to increase the rental values of the offices located within. At the base of the skyscraper on the north side, a large plaza was planned, which now bears the name of Bank of America's founder, A.P. Gianinni, and is frequented by locals on their lunch break. The skyscraper, the banking hall, the plaza, the stairways, and the sidewalks were all clad with very expensive Carnelian granite and an exclusive restaurant named The Carnelian Room was planned for the top floor.
Tallest Building
When it was completed in 1969, the tower – which stands 779 feet tall (237 meters) and boasts 52 stories – held the title of Tallest Building West of the Mississippi until another financial corporation, Transamerica, completed their famous "pyramid" building in 1972. It does, however, remain one of the largest buildings on the West Coast.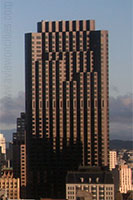 The Bank of America Building became immediately popular with the film industry. In 1971, it was featured in the movie Dirty Harry in the beginning sequences; the killer shoots his victim from the building's roof. A few years later, the building served as the infamous Glass Tower in the disaster movie hit, The Towering Inferno.
The Building Today
In the mid-1980's, Bank of America sold its building to local real estate magnate Walter Shorenstein for $660 million, at the time the largest sum of money paid for any building in the United States. In 2005, the property was purchased by Hudson Waterfront Associates of New York for $1.05 billion, and its name was changed to 555 California Street.