The terraced Vrtba garden, situated on the slope of the Petrin Hill, is one of Prague's most important Baroque gardens. The picturesque garden is embellished with expressive statues of ancient gods.
History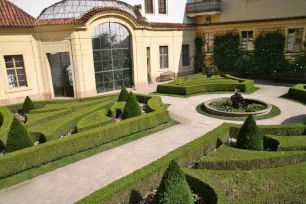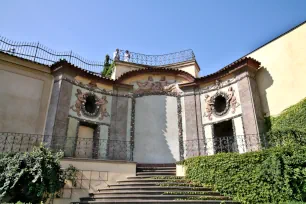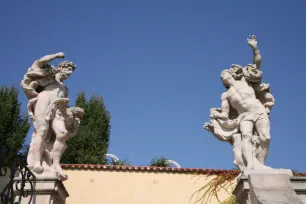 The garden was created in 1720 for the Vrtba Palace, built by Jan Joseph, the Earl of Vrtba. It was designed as an Italian style terraced garden by František Maximilán Kanka. Construction of the garden took five years.
The Terraces
Situated on a hill, the garden is divided into several terraces, connected to each other by staircases. The lowest part is enclosed on three sides by the palace. At the center stands a small fountain decorated with a sculpture of a putto and a dragon.
On the south side of the lower terrace is the Sala Terrena, a hall connecting the palace with the garden. It is decorated with beautiful frescoes painted by Václav Vavrinec Reiner. The wing opposite the Sala Terrena houses an aviary.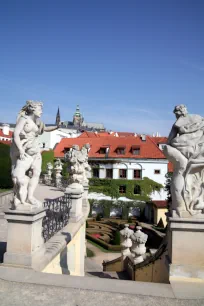 The lower terrace is connected to the middle terrace by two staircases behind doors. Here you find beautifully designed flower beds flanking a small circular pool. A Baroque wall decorated with eight statues divides the middle and upper terrace, which can be reached via an ornamented staircase with two wings. The statues of ancient gods were designed by sculptor Matthias Braun. The upper terrace leads to yet another staircase which culminates in a small building fronted by a blind arch which is decorated with bas-reliefs of water gods. Originally, the center of the arch was decorated with a fresco.
Inside the building is a staircase (yes, another one) which brings you to a balcony from where you have a magnificent view of not just the garden but also Lesser Town and the Prague Castle.
Reaching the Garden
The garden is situated behind the Vrtba Palace. It can be reached by passing through a porch on Karmelitská Street and walking straight ahead through a courtyard.