Kampa Island is the largest island in the Vltava river, separated from Prague's Lesser Town (Malá Strana) by a small stream. The most important attraction on this picturesque island is the Museum Kampa, a modern art museum.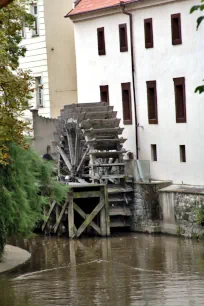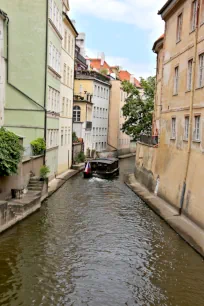 The island, one of the most peaceful areas in the center of Prague, is easily reached from the Charles Bridge via a staircase.
Devil's Stream
The Island is formed by a branch of the Vltava river, the Čertovka or Devil's Stream. The stream's name stems from a devilishly tempered woman who lived at the nearby Maltese Square in the nineteenth century.
The small river was used as a mill creek for several centuries; the last active mill was in use until 1936. Today, three old water mills still remain.
Kampa Park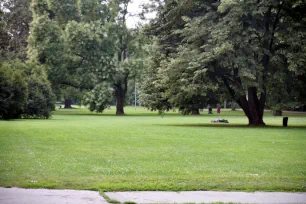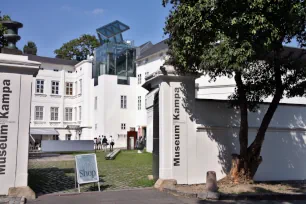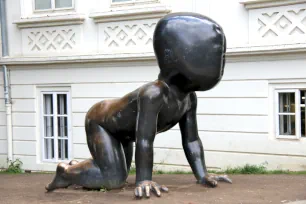 During the Middle Ages, Kampa Island was one large garden, often used by locals to bleach sheets. Due to frequent flooding of the island, it took until the sixteenth century before the first houses were built at the north part of the island. The beautiful houses at Na Kampe náměsti date back to the seventeenth century.
At the southern end of the island is the small and quiet Kampa Park. It was created during the 1940s by joining several palace gardens. The riverside park offers beautiful views of the Old Town across the Vltava.
Museum Kampa
In the park, near the riverside, is the Museum Kampa, a museum dedicated to Central European Modern art. The museum is housed in a flour mill with a history that goes back to the late fourteenth century.
The mill was thoroughly renovated in 2001 and is since home to a collection of modern art built around the personal collection of Jan and Meda Mládek. A significant part of the collection consists of artwork by Czech artists František Kupka and Otto Gutfreund.
The Babies
Right next to the Kampa Museum, you'll encounter eight bronze pieces known as the «Miminka» (Babies). The sculptures, which are 2.6 meter high and 3.5 meter long (8×11 ft), look like crawling babies except that each Miminko (Baby) has a barcode where its face is supposed to be. The sculptures were created by the Czech artist David Černý. Similar sculptures can be seen crawling on the Žižkov Television Tower.