A large equestrian statue marks the site where Jan Žižka, leader of a heavily outnumbered Hussite army, defeated a powerful international alliance of crusaders.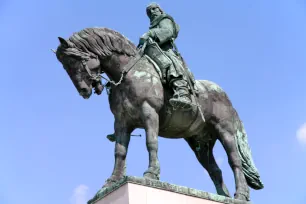 Jan Žižka
The equestrian statue of Jan Žižka (John Zizka) overlooks the city from the top of the Vítkov Hill east of Prague's historic center. It marks the site where in 1420 Jan Žižka, the sixty-year-old one-eyed leader of a Hussite army consisting of mostly peasants, defeated the overwhelming army of crusaders who had come from abroad in an effort to crush the 'heretic' Hussites.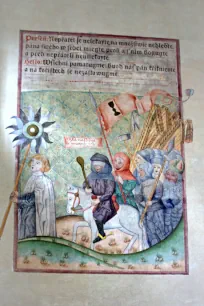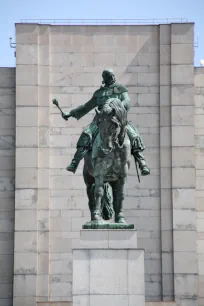 The battle is one of the most famous between the Hussites – followers of Jan Hus, a Protestant reformer who rebelled against the wealth of the Catholic Church – and the Roman Catholics, led by the pro-Catholic Emperor Sigismund. Žižka was a master tactician and was able to defeat superior forces of armored knights with his untrained and lightly armored Hussites.
The legendary leader is often portrayed with just one eye, as he had lost his sight in one eye when he was younger. And even when his second eye was hit by an arrow in 1421, making him completely blind, he continued to command his forces. He died three years later, in 1424.
The Statue
The colossal statue honoring Jan Žižka is 9 meters tall (almost 30 ft.), excluding the pedestal. The almost 17 tonnes weighing statue is the world's largest bronze equestrian statue. It was created by Bohumil Kafka, a Czech sculptor influenced by the works of Auguste Rodin. He started working on the statue in the 1930s, but the outbreak of the Second World War halted any progress. The casts even had to be hidden to prevent the Gestapo from destroying it. Bohumil Kafka would never see his work completed, as he died in 1942. The statue was eventually inaugurated eight years later, in 1950.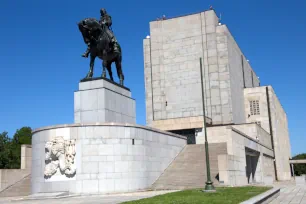 National Monument
Behind the statue of Jan Žižka is the National Monument (Národní památník na Vítkově), a hulking building completed in 1932. During the communist era, it was used as a mausoleum for the country's first communist leader, Klement Gottwald. His embalmed body rested here from 1953 until the 1960s, when it was incinerated. In 2001, a long reconstruction started, resulting in a new historical museum with an exhibition entitled 'Crossroads of Czech and Czechoslovak statehood in the 20th century'. The museum opened on October 29, 2009.