A colossal memorial on the Old Town Square commemorates Jan Hus, a 14th-century religious reformer who challenged the opulence and corruption of the Catholic Church. The monument has become a symbol of Czech independence.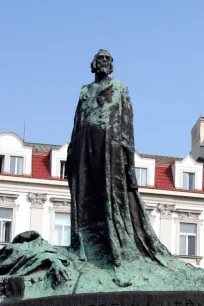 Jan Hus
Jan Hus, born in 1369, was a protestant reformer who condemned the indulgence and corruption of the Catholic Church and the Vatican in particular. When the popularity of Hus gained strength, the Catholic Church excommunicated him. Hus wanted to defend his position at the Council of Constance but despite a letter of safe conduct from the emperor, he was imprisoned and declared a heretic. The following year, in 1415, he was burned at the stake.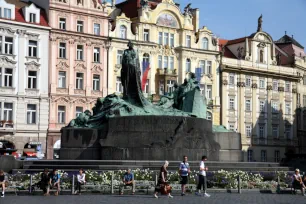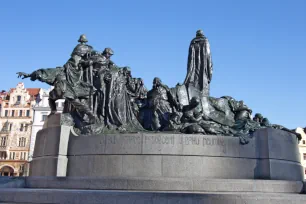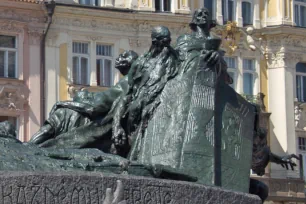 Once news of his death reached Prague, people were indignant by the execution and considered it an attack on the nation. The followers of Jan Hus – known as Hussites – started to revolt and destroyed monasteries and churches. Pope Martin V called on the Catholics in other countries to wage a war against the Hussites, starting a long war between Protestant Hussites and Catholic crusaders.
Creation
The memorial honoring Jan Hus was the lifework of Czech sculptor Ladislav Šaloun, an autodidact who was inspired by the French sculptor Auguste Rodin. Šaloun started working on the sculpture in 1903, and the influence of the then-popular Jugendstil art movement is clearly visible.
The monument was unveiled in 1915, on the 500th anniversary of the death of the reformer. At the time, Prague was under Austrian rule, and the Habsburgs refused to officially inaugurate the monument. Locals covered the monument with flowers in protest. Ever since, it has been a symbol of opposition against foreign rule.
The Monument
A tall statue, rising high above a massive platform, shows the authoritative figure of Jan Hus. To his left are the victorious Hussite troops, to his right are the oppressed protestants who were banished two hundred years later. The figure of a young mother symbolizes the resurgence of Czech nationalism.
An inscription on the base quotes the will of one of the followers of Hus, and contains a famous quote from Hus: 'Pravda Vitězí', meaning Truth Prevails. It is now an official motto, written on the banner of the President of the Czech Republic. The quote from Hus is even recognized as an official national symbol.