The Estates Theatre is an eighteenth century neoclassical building best known as the theatre where Mozart's Don Giovanni had its premiere.
Construction
The Estates Theatre is an elegant Classicist building that was commissioned by Count Nostitz, a noble German-born citizen. It was designed by master builder Anton Haffenecker in collaboration with Sebastian Kunigl. The building was completed in 1783 after two years of construction.
The theatre building was named Nostitz theatre, after its founder. In its early years the plays were performed in German and Italian, but later Czech performances were added – unusual at the time – in an effort to attract more visitors.
Mozart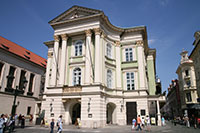 Estates Theatre
The theatre's main claim to fame can be traced back to October 29, 1787, when Mozart himself conducted his new opera, Don Giovanni, in the Nostitz Theatre. Mozart composed the opera specifically for Prague, where he was more popular than in Vienna. La Clemenza di Tito – another one of Mozart's greatest operas – also premiered here, in 1791. Parts of the 1980s movie 'Amadeus' were filmed here to make the movie look more authentic.
National Anthem
And on December 21, 1834, the song "Kde domov můj" (Where is my home), a composition by František Škroup, was first performed here as part of a comedic play. In 1918 the song would become the national anthem of Czechoslovakia. It is now the anthem of the Czech Republic.
Il Commendatore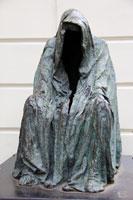 Il Commendatore
In front of the Estates Theatre stands a sculpture of an empty coat made by Czech artist Anna Chromy. It is called 'Il Commendatore' after one of the main characters in the opera 'Don Giovanni'. The sculpture is a variation on her trademark piece known as the 'High Cloak of Conscience', which was created to represent hope and peace.
Naming Game
The theatre's current name was given in 1789 when Count Nostitz sold the theatre to the Bohemian Estates. For some time during the second half of the nineteenth century, the theatre was known as the Royal Provincial German Theatre, since a German theatre company had settled here. In 1920, the name Estates Theatre was restored until 1948, when the building was named Tyl Theatre, after the Czech writer, actor and playwright Josef Kajetan Tyl. In 1990, after an eight-year-long restoration, the theatre opened again as the Estates Theatre.