The Drake was built in 1929 as a luxurious hotel. The brick and terracotta skyscraper is arguably the most magnificent of the many high-rises that were built in Philadelphia during the skyscraper boom of the 1920s.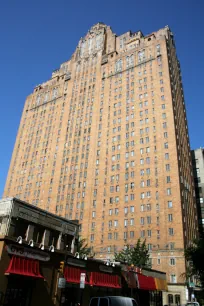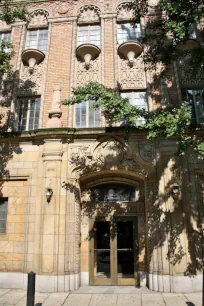 Even today, the Drake's unique silhouette stands out prominently in the city's skyline.
Construction
The skyscraper was built as the Drake Hotel at Spruce and Hicks Street, in the fashionable Rittenhouse Square District. When it opened its doors in 1929, it was the city's second-tallest building, only eclipsed by the 1928 Fidelity – Philadelphia Trust Company Building (now Wachovia Building).
Architecture
The Art Deco skyscraper was designed by the prominent local architecture firm of Ritter and Shay. Setbacks, initially introduced to allow light to reach the street in response to New York's 1916 zoning law, had become popular at the time, but Ritter and Shay took its implementation one step further by using the setback as an ornament rather than a practical solution. The terraces at the top of the tower are decorated in Spanish Baroque style with balustrades, brick motifs, scrolls, mascarons and finials. Two series of large volutes lead to the signature terracotta dome.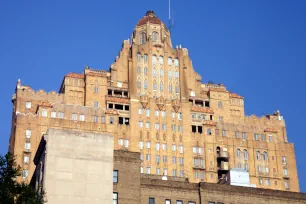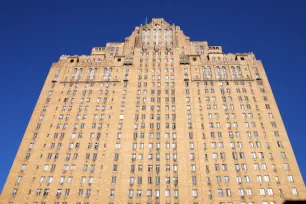 The steel framed structure has a Pompeian brick façade, adorned with terracotta patterns. The ground floor of the building is decorated with terracotta reliefs depicting nautical themes such as ships and dolphins. The reliefs honor Sir Francis Drake, the renowned English sea captain after whom the building was named.
Redevelopment
In September 1978, the Drake was added to the National Register of Historic Places, a list of places worth preserving. In the mid-1980s, the hotel was redeveloped into residential units, first condominiums and later rental apartments. The penthouses at the top, with beautifully decorated terraces and spectacular views, are reminiscent of some of New York's most luxurious historic apartment buildings.