The principal church of the Philadelphia archdiocese, the Cathedral Basilica of SS Peter and Paul, has long been a religious landmark in the City of Brotherly Love.
History of the Cathedral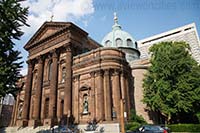 Cathedral of SS Peter and Paul
Designed in 1846, the Cathedral of SS Peter and Paul is modeled after the Lombard Church of St. Charles (San Carlo al Corso) in Rome. It took approximately eighteen years to build the Roman-Corinthian style church, with its completion occurring in 1864. Philadelphia was granted the opportunity to build this magnificent structure after the city hosted the 41st International Eucharistic Congress. It became a basilica in 1976.
Specifics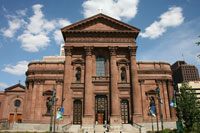 Front Facade
This brownstone cathedral measures more than 250′ in length, 136′ in width, and 101'6″ in height (76 x 41 x 31 m). The copper dome atop the church adds another 60 feet (28 m), with an additional 11 feet of 3.3 meter height for the gold cross that sits atop the dome.
Four Corinthian-style columns grace the exterior of the cathedral. Nearby are four magnificent statues: the Sacred Heart, Mary the mother of Jesus, and saints Peter and Paul. The main doors and handrails are fashioned from bronze, part of a renovation that occurred within the past fifty years.
Interior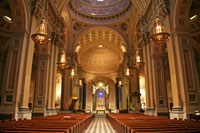 Interior
Inside, the cathedral is cross-shaped, with eighty-foot barrel vaulted ceilings, and seats 1,240 people in its walnut pews. Exploring the interior, you'll find that the underside of the dome is designed in mosaics and the canopy over the altar is made from fine antique Italian marble. Six additional marble columns soar forty feet high and are set into the curved wall of the apse.
The apse
The stained-glass windows, especially the large center window dedicated to the Eucharist, are breathtaking and the mosaic murals on the rear wall, set in place to commemorate the one hundredth anniversary (1975) of Philadelphia as an archdiocese, are equally stunning.
Under the main altar sits a crypt that contains the remains of most of the bishops and archbishops of Philadelphia. Other prominent area clergymen are buried there as well.
Visiting the Cathedral