The Museum of Art in Philadelphia is one of the country's largest museums. Its collection of some 300,000 works of art covers diverse artistic areas.

Philadelphia Museum of Art
The works on display include photographs, paintings, tapestry, carpets, sculpture, armory, ceramics and furniture. Some of the two hundred galleries even include complete historic sites, such as a Buddhist temple. Its collection of paintings includes works from renowned artists like Picasso, Van Gogh, Rubens and Renoir.
The Museum is located on a hill at the end of the Benjamin Franklin Parkway, providing a perfect vista for this wide boulevard.
Centennial Exposition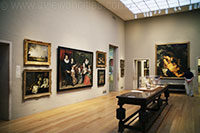 Inside the Museum
The origins of the museum go back to the Centennial Exposition of 1876. It was held at Fairmount Park, where a permanent exposition hall was built for the exposition's art gallery. The building, known as Memorial Hall, was designed by Hermann Schwarzmann. It was built between 1874 and 1876 in the popular Beaux-Arts style. The glass-domed building is still one of the most beautiful in Philadelphia.
A New Building
Medieval armor
The museum's collection expanded rapidly and by the end of the nineteenth century Memorial Hall had become too small. In 1907 the decision was made to build a new museum on a hill known as Faire Mount, at the end of the recently completed Benjamin Franklin Parkway.
The building, designed by Horace Trumbauer, Julian Abele, Clark Zantzinger and Charles Borie, was inspired by Greek temples. An imposing flight of stairs leads to an open court bordered by three connected neoclassical temples.
Construction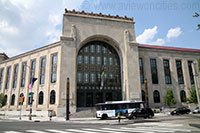 Perelman Building
Construction started in 1916, but not enough money had been raised to complete the whole building, so the wings were completed first. These opened to the public in 1926. Two years later, with additional funding provided by the city and donations, the central temple was finally built.
Ruth and Raymond G. Perelman Building
In 2007 the Museum of Art opened an expansion in the nearby Perelman building, a historical Art Deco building constructed in 1927 as the Fidelity Mutual Life Insurance Company Building. The building was designed by the same firm that designed the main Museum of Art building.