One of Philadelphia's most majestic buildings, Memorial Hall is located in the city's vast Fairmount Park.

History and Architecture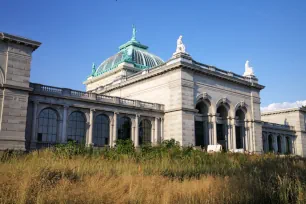 Beautiful Memorial Hall is the only major surviving building constructed for Philadelphia's Centennial Exposition in honor of the 100th birthday of America in 1876. Designed by Hermann J. Schwarzmann, who was at that time the chief engineer of expansive Fairmount Park, Memorial Hall is considered one of America's best examples of the Beaux-Arts style of architecture.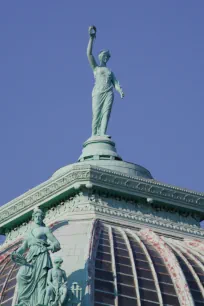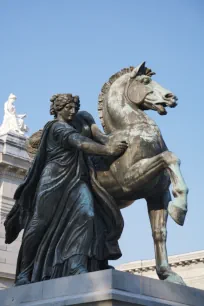 The building is fashioned from glass, iron, brick, and granite and cost the hefty sum of $1.5 million. Its building materials made Memorial Hall totally fireproof, which was quite novel for that period of time.
The structure measures 365 ft by 210 ft (111 x 64 m) and stretches to a height of 150 ft (46 m) at the top of its magnificent dome, which is made of iron and glass as well. The dome is the most prominent feature of Memorial Hall and can be seen from the highways that traverse the park. Sitting atop the dome is a statue of Columbia, a poetic symbol of the United States. Other statuary symbolizes industry and commerce.
During the Centennial Exposition, Memorial Hall housed works of art and went on to serve as the city's first art museum for many years, known as the Pennsylvania Museum of the School of Industrial Art. It closed in 1928 when the museum found a new and larger home on Benjamin Franklin Parkway.
After that, ownership was assumed by the Fairmount Park Commission, and though Memorial Hall would again be home to a small art museum, it also served as a police station for quite some time.
Please Touch Museum
Since 2008, the Memorial Hall is the new home of Philadelphia's child-oriented Please Touch Museum. For more information on the museum, have a look at their website.