Truly fascinating to explore, especially for the colonial history buff, Christ Church Burial Ground is easily accessible from Philadelphia's other historic sites.
About the Cemetery
The question most people ask when visiting a cemetery is "Who's buried here?"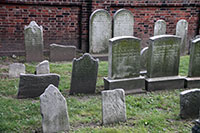 Christ Church Burial Ground
In the case of Christ Church Burial Ground, which sits adjacent to the historical church of the same name, the answer is a plethora of 4,000 souls, including many who were connected with early American history. These famous Philadelphians include seven signers of the Declaration of Independence, and many other individuals who made their mark on early medicine, law, science, and other fields.
Also buried on these two acres (81 are), the same land that the church purchased in 1719 for use as an expansion of the church's original graveyard, are "regular people", including many who died in the Yellow Fever epidemic of 1793. Some Philadelphia families have many generations buried here as burials occurred in this cemetery until well into the 1990s.
The burial ground has been open daily (except January and February) since 2003 and for a very small admission fee, visitors can enjoy a self-tour or guided tour of the cemetery. The church is very diligent about the upkeep of the property and has worked to restore markers and vaults for better viewing.
Looking for Graves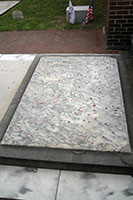 Grave of
Benjamin Franklin
If you're visiting Christ Church Burial Ground, you'll probably be able to spot its most famous deceased residents fairly easily. The most often-visited grave is that of Benjamin Franklin, who died in 1790. He is buried alongside his wife Deborah and children Francis and Sarah. Franklin's grave is visible day and night through a metal fence without having to step foot into the cemetery.
Other early Americans and signers of the Declaration buried at Christ Church include Francis Hopkinson, Joseph Hewes, Dr. Benjamin Rush, and George Ross.
Also buried in Christ Church cemetery are war heroes from the Revolutionary War and World War I, early Pennsylvania and Federal Government officials, authors and poets, and many other notable individuals.
Maps of the burial ground are available and guides are always on hand to offer a history lesson. Specialized tours are often organized in conjunction with a particular occasion.