Philadelphia's Rodin Museum – situated at the Benjamin Franklin Parkway – boasts the largest collection of the artist's works outside France.
Jules E. Mastbaum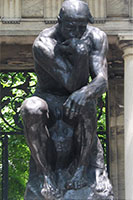 The Thinker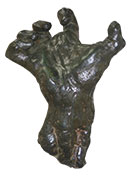 The Clenched Hand
In 1923 Philadelphia's movie theater magnet Jules E. Mastbaum started collecting works of Auguste Rodin (1840-1917).
In 1926 Mastbaum commissioned architects Paul Philippe Cret and Jaques Greber to build a museum to house his collection. By the time the neoclassical building was completed in 1929, Mastbaum had passed away, but in a time span of less than four years, he had amassed 124 sculptures.
Auguste Rodin
Auguste Rodin is best known for his realistic, dramatic sculptures, most in bronze or marble. But he also made many paintings and sketches.
The Thinker
The most famous of Rodin's works, The Thinker, can be seen outside the museum, in the front yard. It was modeled between 1880 and 1882.
Gates of Hell
Entering the museum building, you pass through the Gates of Hell. The massive 18 ft (5.5 m) high bronze doors were created for the Museum of Decorative Arts. Rodin worked on the sculpted doors with more than 100 figures from 1880 until his death in 1917. Several of his works are actually studies made for these doors, the famous 'Thinker' being one of them.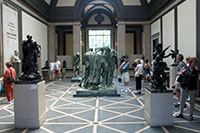 Museum Interior
Other Works of Art
Inside the museum are several rooms with many more of the artist's works on display, including The Kiss (1886), Eternal Springtime (1884) and Burghers of Calais, a monument commissioned in 1884 by the City of Calais.
For info on tours and opening hours, check out the Rodin Museum's official homepage.