Once a haven for skateboarders, Philadelphia's JFK Plaza – commonly known as Love Park – is now a pleasant place to stroll or relax.
Building the Park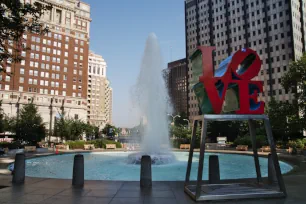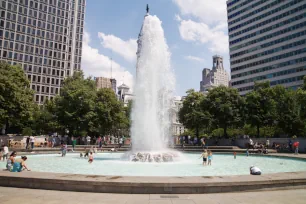 JFK Plaza, named in memory of John F. Kennedy, was built in 1965 and designed by architect Vincent Kling. The park sits directly across from City Hall and represents the eastern terminus of the expansive Benjamin Franklin Parkway. Built over an underground parking garage, the park originally featured granite steps and a simple fountain and benches for relaxing.
Though the official name of the park is JFK Plaza, when Robert Indiana's unusual red LOVE sculpture was installed at the park in 1976, it quickly became known as Love Park. The sculpture was commissioned for the country's Bicentennial but was removed two years later. After protests from both city officials and residents, it was brought back to the park and has remained there ever since.
Legacy as a Skatepark
In the 1980s, when the sport of skateboarding began to grow in popularity on the East Coast of the U.S., skateboarders searched for places to hone their skills and Love Park provided the ideal location. The park was full of large granite surfaces, including curved steps and rails that were perfect for skateboarding.
Before long, skateboarders were arriving from other locations around the country to check out Love Park and local skaters who had become experts at their sports began receiving endorsements from large companies, drawing further attention to the park. Philadelphia's Love Park was chosen as the site of the 2001-2002 X-Games, and millions watched as skateboarders made their way through this excellent course.
However, not everyone was enamored with Love Park's legacy as a skatepark. Mayor John Street was not happy about the use of the park and ordered a re-design that virtually erased all the elements that made it a good place to skateboard. Gone were the granite fixtures, replaced by soft woods, grass, and other materials that make it virtually impossible to skateboard there.
Today, most visitors to the park head there to enjoy a peaceful lunch or relax on the grass near the fountain. The park is within close proximity to many large office buildings and Philadelphia's Market East retail center.