One of William Penn's five open squares around which he organized the city of Philadelphia, Rittenhouse Square has always exuded prestige and glamour. Through the centuries, it has been home to some of the city's wealthiest and most well-known residents.
History of Rittenhouse Square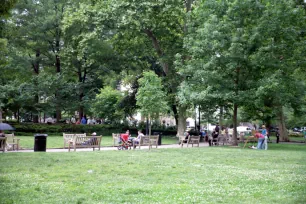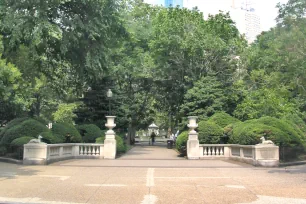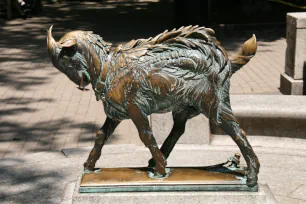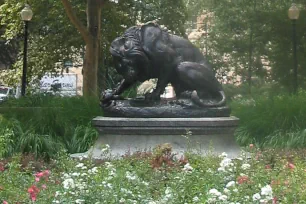 In 1682, when William Penn asked his surveyor to draw up a city plan, it included five "squares" or open spaces that reflected the statesman's desire for a "green country town". There was one in the center and others at each corner of the growing town.
Rittenhouse Square was originally called Southwest Square due to its location in that part of the city. Like the other squares, it often provided a place for livestock to roam, though it was never used as a burial ground, which was the case with the other squares.
In 1816, the residents of this popular square asked that it be enclosed by a fence and raised funds to do so. In the next several decades, trees and walkways were added, as were the first houses facing the square. The name of Southwest Square was changed in 1825 to honor David Rittenhouse, a Philadelphia astronomer and instrument maker.
By 1850, Rittenhouse Square was indeed the most fashionable place to live in Philadelphia, and by the turn of the century, it was known to boast a variety of colorful Victorian aristocracy. Some of their homes remain on the streets of the square today.
What you see now at Rittenhouse Square appeared for the first time in 1913, when architect Paul Phillippe Cret came up with a new design for the square. The central plaza was given a reflecting pool and fountain and is still a favorite gathering place for those on their lunch break. Beautiful lampposts, classical Greek urns, and a plethora of trees were added to the square as well.
Diagonal walkways made their way across the square, and over the years, unique sculpture has been placed here to be enjoyed by all. These include the 1832 "Lion Crushing a Serpent" by French Romantic sculptor Antoine-Louis Barye and the whimsical "Duck Girl of 1911" by Paul Manship. You'll also find a two-foot-high bronze billy goat, a giant frog, and two small stone dogs, the most recently-added residents of Rittenhouse Square.
Today's Rittenhouse Square
Today, many of Rittenhouse Square's mansions have been replaced with high-rise condominiums and apartments and a few of the city's finest hotels. Kids frolic in the green area, visitors admire the sculpture, and local business persons park themselves on the benches to enjoy their noontime meal. The square is within easy walking distance of many of the city's historic attractions.