The first successful municipal water works in the United States, Philadelphia's Fairmount Water Works is more than just a display about the importance of clean water.
History of the Water Works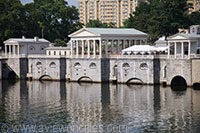 Fairmount Water Works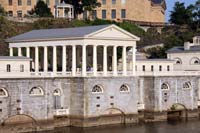 Great Pavilion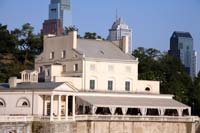 Engine House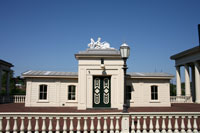 Entrance Pavilion
Schuylkill Free statue
Philadelphia's inaugural water works was devised after a series of Yellow Fever epidemics plagued the city in the 1700s. At that time, it was thought that the disease was caused by unclean water, and the city's leaders proposed a water treatment system to lessen the impact of the disease. After forming a "watering committee", in 1799 the city decided to adopt a design by Benjamin Latrobe, who proposed a steam engine system to do the job. It failed to work properly.
John David and Frederick Graff were selected to build a new system, which was constructed between 1819 and 1822 on the banks of the Schuylkill River. It originally consisted of a 3 million gallon (11,350,000 liter) reservoir and a pump house using steam engines to pump water. In 1822, a 1,600-foot (487 meter) dam was built across the Schuylkill to direct water to three water wheels, which had replaced the steam engine.
While the Fairmount facility achieved much acclaim and was the model for similar facilities throughout the U.S., it also became well-known for the lovely Greek Revival structures that disguised the inner workings of the system. The complex was consistently praised for its design, and Graff said it was meant to resemble a "genteel country estate". Its waterside location often attracted visitors, even famous ones such as Charles Dickens, who proclaimed the site to be "no less ornamental than useful, being tastefully laid out as a public garden".
The original Fairmount Water Works closed in 1909 and, after that, the building was used for a variety of different purposes, including as the Philadelphia Aquarium, which was open for several decades. An indoor swimming pool for city residents was also located there, but closed in 1973. The structure was partially destroyed by fire in the late 1970s.
National Historic Landmark
Today, however, Fairmount Water Works has been renovated and turned into an interpretive center and is now a National Historic Landmark and a National Historic Civil and Mechanical Engineering Landmark. The interpretive center educates visitors as to the importance of an urban watershed and how to take care of it.
All sorts of special events happen at the Water Works, including lectures and workshops, summer camps, movies, concerts, and more. The facility has won numerous awards for its educational outreach programs and is a popular field trip location for local school children.