Plans to construct a bridge between Philadelphia, Pennsylvania and Camden, New Jersey on the other side of the Delaware river were made as early as 1818. It would take another century before the ferry boats were replaced by a bridge.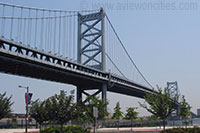 Benjamin Franklin Bridge
In 1919 a commission with delegates from Pennsylvania, the city of Philadelphia and New Jersey was set up to start planning the new bridge. They hired architects Ralph Modjeski and Paul Philippe Cret who jointly designed a steel suspension bridge with a main span of 1750ft / 533m. It would be the largest suspension bridge in the world, losing that title in 1929 to the Ambassador Bridge in Detroit.
Construction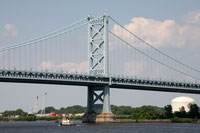 Construction started in 1922 but soon after a dispute arose between New Jersey and Philadelphia. New Jersey wanted toll booths on the bridge while Pennsylvania wanted the bridge to be free, using tax money to pay for the construction. Works on the bridge even halted for some time until eventually Pennsylvania agreed to construct toll booths.
Inauguration
The blue bridge finally opened to traffic on July 1, 1926 as the Delaware River Port Authority Bridge. In 1956 it was renamed Benjamin Franklin Bridge, after one of the Founding Fathers and one of Philadelphia's most famous citizens.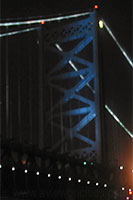 The Bridge at night
Initially the bridge had six car lanes, two tracks for a streetcar and two railway lines on the outside of the bridge's deck trusses. A streetcar was never put into service though. The car lanes were later widened and one was added, replacing the streetcar tracks. The railway tracks came into use in 1936.
Lighting
In 1987 a computerized lighting system was added to the Benjamin Franklin Bridge as part of the celebration of the Bicentennial of the US Constitution. This makes the bridge a colorful spectacle at night.