Proposed by Alexander Hamilton, the First Bank of the United States stands amid Philadelphia's other historic landmarks.
History of the Bank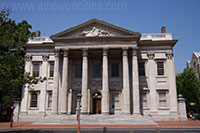 First Bank of the United States
During the United States' first years as an independent country, it was hampered by the lack of a stable financial environment. There was a large amount of different currencies being circulated in the US, while the country was struggling with large debts from the Revolutionary War.
In order to provide the young country with a stable currency, Alexander Hamilton – treasury secretary of the United States from 1789 until 1795 – put forward the idea for a federal bank. Proposed to the President and Congress in 1790, the First Bank of the United States was chartered in 1791 and was initially headquartered in Carpenters' Hall. The purpose-built Bank, constructed nearby at 3rd and Chestnut streets, was completed six years later, in 1797.
The bank's charter would expire in 1811 under President James Madison, but would be renewed five years later as the Second National Bank. However, that bank would be situated in a different location.
The Building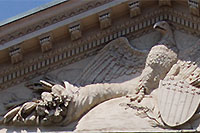 Detail of the pediment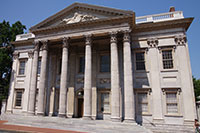 The First Bank of the U.S. building is an excellent example of Classical/Revival-style architecture. It was designed by Philadelphia architect Samuel Blodget Jr. and was built between 1795 and 1797. It was quite large compared to other structures of the day, and Blodget designed it that way so that it would exude a feeling of power and strength. The design was also engineered to resemble the buildings of Ancient Greece and to recall that civilization's democratic policies and architectural splendor.
While the interior of the building is not open to the public, the building's exterior is interesting itself. Look for the magnificent mahogany cornucopia, oak branch, and eagle, crafted by artist Clodius F. Legrand in 1797, which sits at the pediment of the two-story portico on the building's facade. And check out the other eagle atop the gateway that leads to the courtyard on the northern side of the building.
While this building only served as the First Bank until 1811, it did continue to be a bank after being purchased by wealthy Philadelphian Stephen Girard in 1812 for use as his private bank. It remained as such until 1926. Empty after Girard Bank closed, it was finally restored to its original state in 1976, in time for the U.S. Bicentennial.