In the midst of a city that's full of early American history, the Betsy Ross House is a tiny jewel that shouldn't be missed. Often overlooked for the likes of Independence Hall, the Liberty Bell, and Philadelphia's magnificent Art Museum, the Betsy Ross home is a site well worth the short amount of time it takes to explore.
About the House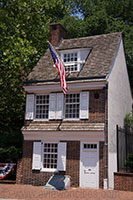 Betsy Ross House
In reality, flag maker Betsy Ross never really owned the home located at 239 Arch Street in the Olde City section of Philadelphia. She was a long-time renter (1773-1786) at this little house, which was built in 1740.
Constructed in the Georgian style, the Betsy Ross House consists of two and a half stories and a total of nine rooms. Mrs. Ross lived here with her husband, John, and the couple ran their upholstery business from the house.
Actually, no one is quite sure whether this is the exact house where Betsy and John lived, but most records point to the fact that either this home or the one next door at #241 (now a garden area) was the abode of the maker of the first American flag, strewn with 13 stars and 13 stripes.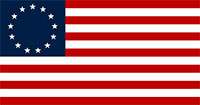 Betsy Ross Flag
Visitors can wander through the cellar kitchen, the period parlor, explore tiny bedrooms, and view models of areas where the Ross's likely worked on their upholstery projects. What is believed to have been the original upholstery shop is now a gift shop, where guests can purchase flag-related mementos, books about Ross, or other colonial Philadelphia-related items. Refreshments and restroom facilities are also available at the gift shop.
Fun Fact
After Betsy Ross left the house on Arch Street, it was occupied by a number of other businesses. Eventually, however, local Philadelphians recognized the historic importance of the house and purchased it, forming the Betsy Ross Memorial Association in 1898.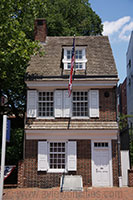 In hopes of restoring the home to its original condition and creating a place where visitors could pay homage to the famous seamstress, Americans were asked to donate dimes to help create this shrine to Betsy Ross. Two million U.S. citizens responded! Each donor received a certificate as well as a copy of a famous painting of Betsy Ross conferring with America's founding fathers as a thank you for their generosity.
Visiting the Betsy Ross House
Approximately a quarter-of-a-million visitors head to the Betsy Ross House each year to learn about the famous lady. The house is open 7 days a week during peak tourist season, from Memorial Day until Labor Day. During the off season, the house is closed on Mondays. The Betsy Ross House is also closed on Thanksgiving, Christmas, and New Year's Day. Admission is free but a donation is suggested.