Saint-Étienne-du-Mont, one of many interesting churches in Paris, houses the reliquary which used to hold the body of Sainte Geneviève, patroness of Paris. Of equal importance is the only surviving choir screen in Paris.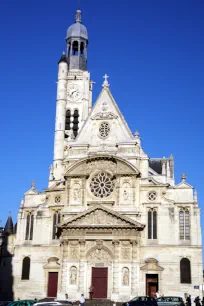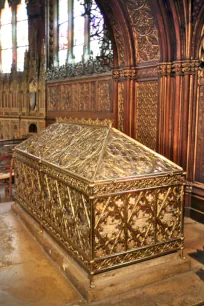 The relatively small but remarkable Church of Saint-Étienne-du-Mont is tucked behind the massive Pantheon. The church replaced a small chapel dedicated to Sainte Geneviève, patroness of Paris. The chapel was part of the Sainte-Geneviève abbey.
Construction
The church was built over a period of more than one hundred years, with construction starting in 1492 and ending in 1626. This resulted in a mixture of architectural styles, including Gothic and Renaissance. The front facade, which consists of no less than three pediments, even features a classical porch.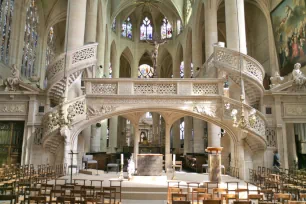 The abbey was demolished in the eighteenth century, only the church of Saint-Étienne-du-Mont and the bell tower of the abbey (the Tour Clovis) survived. The church suffered much damage during the French Revolution, but was renovated thoroughly during the nineteenth century.
Interior
While the exterior, and specifically the front facade and bell tower, are elegantly designed, the beauty of the church is inside. The renaissance choir screen with double spiraling staircase – the only surviving example in Paris – is truly magnificent.
Another attraction is the golden reliquary which used to hold the remains of Sainte Geneviève and a number of relics. Sainte Geneviève is the patron saint of Paris, and Parisians regularly brought the relics in a procession from the church to the Notre Dame Cathedral and back in the belief that it would stave off catastrophes such as the plague and floods.
This ceremony was brought to an end in 1793 when revolutionaries burned the body of Sainte Geneviève and melted the relics at the Place de Grève in front of the city hall. Only the tomb survived.
Important French figures such as playwright Jean Racine and physicist Blaise Pascal are buried inside the church.