Park Slope is a historic district with beautiful row houses and mansions. The area started to developed during the second half of the nineteenth century thanks to the improved access to nearby Manhattan.
Development of Park Slope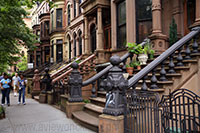 The Park Slope neighborhood of Brooklyn began to develop after ferry service connected the Brooklyn Terminal and South Brooklyn to thriving Manhattan in 1814. By 1850, the area was burgeoning thanks to the foresight of local developer and entrepreneur, Edwin Clarke Litchfield, who bought large parcels of land in the area and sold it to residential developers. Soon, the farmland so abundant in the area was gone, and the neighborhood became an early suburb of Manhattan. The completion of the Brooklyn Bridge in 1883, connecting Manhattan with Brooklyn, accelerated the urbanization of the area.
Many wealthy Manhattanites decided to make their home in Park Slope, away from the city and near wide green areas like Prospect Park, built in 1867 and designed by Frederick Law Olmsted. They built large mansions with park views, many of which have been preserved and are still available for photographing or touring.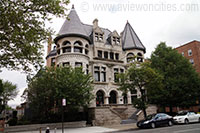 Decline and Revival
Park Slope continued to be prosperous for several decades, but eventually saw a decline in the 1950s and 60s as wealthy citizens made their way to the suburbs of Connecticut and Northern New Jersey. Now a working class neighborhood, many of the grand homes were left empty and quickly deteriorated.
An urban renewal project in the late 1980s / early 1990s reinvigorated the area as young families and professionals arrived to renovate the historic homes. Much to the unhappiness of many residents, the neighborhood's retail industry also grew, with restaurants, shops, and other establishments taking up residence in some of the historic homes and other buildings.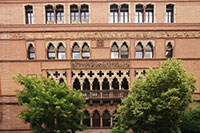 Montauk Club
What to See
The area is abundant with beautiful row houses such as those in Carroll Street, featuring Romanesque arches. Besides the many row houses, Park Slope is also home to a number of magnificent nineteenth-century mansions in very different architectural styles, some with turrets or fanciful decorations.
One of the best examples of these sometimes extravagant mansions is the Montauk Club. Located at 8th Avenue and Lincoln Place near Grand Army Plaza, the building by New York architect Francis H. Kimball is based on the Ca' d'Oro Palace in Venice, Italy. The facade features a combination of Venetian style balconies and reliefs of Montauk Indians.
There are also some interesting religious buildings in the Park Slope district, such as the three nineteenth-century churches at St. John's Place.