New York City is indeed a melting pot of many cultures. You'll find neighborhoods filled with people of various ethnic backgrounds. One of the most popular areas with visitors is Little Italy, where you can experience the sights and smells of The Old Country.
Where is It?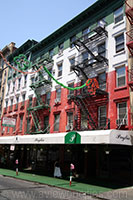 The Tricolore
The neighborhood known as Little Italy is located in Lower Manhattan, between Canal and Houston Streets and Lafayette and the Bowery, bordering Chinatown. The area has long been home to New York's Italian population, including those who came through Ellis Island in search of a better life in America.
At the end of the nineteenth century Little Italy was populated with more than 40,000 Italians who housed in cramped tenement houses. Today the number of Italians still living here is only a small percentage of this figure and much of Little Italy has been devoured by the ever-growing Chinatown.
What's There?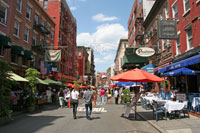 Mulberry Street
There are a number of excellent reasons to visit Little Italy. If you're a fan of architecture, you'll enjoy viewing the buildings that grace the area, most from the late nineteenth and early twentieth centuries.
Look up and you'll see five or six story buildings capped with very ornate cornices. This is true even for the rather plain tenement houses that were plentiful in this neighborhood. Glass storefronts were often a part of these tenements and other industrial buildings and many are still visible today, housing shops that sell fine Italian foods, meat, or – more commonly these days – clothing. A glance towards the sky will also reveal the occasional gargoyle, beautiful stone and iron work, and a number of very ornate fire escapes.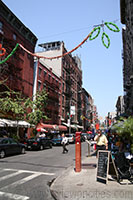 If you've come for the food rather than the architecture, you won't be disappointed. No place in New York City can you get as much authentic Italian cuisine as in Little Italy. More than three dozen Italian restaurants call the neighborhood their home. Most are situated along Mulberry Street and some have room for no more than just a few tables. Don't overlook them! They're often the best places to grab authentic cuisine. You'll also want to be sure to visit the bakeries for some extra treats you can enjoy later.
Feast of San Gennaro
Thousands flock to Little Italy in mid-September to participate in the San Gennaro Festival, a religious feast that includes an elaborate procession honoring the patron saint of Naples, as well as street vendors selling scrumptious food, lots of carnival games, and plenty of entertainment Italian-style.